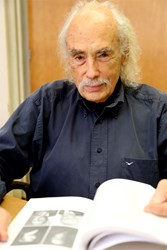 Loma Linda, CA (PRWEB) November 27, 2013
In almost four decades leading Loma Linda University School of Medicine's Center for Perinatal Biology, Dr. Lawrence D. Longo was an eyewitness or personally played a part in many of the discoveries that deal with health of newborns and those still in the womb.
Now, Dr. Longo, Loma Linda University School of Medicine alumnus and a pioneer in developmental physiology research, has written a comprehensive history of the field. His new book, The Rise of Fetal and Neonatal Physiology: Basic Science to Clinical Care, is now available at stores and online.
"I wrote the book because I want us to better understand from whence we came from and where we are going," he said. "If medicine is nothing but a high-class trade, then there would be no need to care about our historical heritage. As physicians and healers, we need to know how our profession developed, however."
Dr. Roger Hadley, dean at Loma Linda University School of Medicine, said Dr. Longo's book would be a valuable resource for doctors and medical students who are interested in the developments in fetal and neonatal physiology that led to improved clinical care.
"The volume combines extensive research and first-hand accounts that bring to life events that have led to improved care of mothers and their newborn infants," Dr. Hadley said.
Almost a decade in the making, the book of over 530 pages reviews the rapid growth of the study of developmental physiology, from the mid- to late-20th century, to become one of the major disciplines in the biomedical sciences. Of importance, it was these understandings that led to establishment of the disciplines of obstetrical perinatology and pediatric neonatology.
In his book, Dr. Longo also discusses advancements in diagnosis and care, including asphyxia that sometimes occurs in the fetus and newborn infants, and the role of fetal diagnosis and therapy.
"Increasingly, these basic studies led academic obstetricians and pediatricians to apply this knowledge to improved clinical care, with the monumental decrease of maternal deaths during pregnancy as well as the striking reduction in infant morbidity and mortality," Dr. Longo said.
Photo Caption: Dr. Lawrence D. Longo, a Loma Linda University Health researcher and pioneer in the field of developmental physiology, has just published a new book, "The Rise of Fetal and Neonatal Physiology," a historic account about the field of fetal and newborn development.
###
About Loma Linda University Health (LLUH)
Loma Linda University Health includes Loma Linda University's eight professional schools, Loma Linda University Medical Center's six hospitals and more than 700 faculty physicians located in the Inland Empire of Southern California. Established in 1905, LLUH is a global leader in education, research and clinical care. It offers over 100 academic programs and provides quality health care to 40,000 inpatients and 1.5 million outpatients each year. A Seventh-day Adventist organization, LLUH is a faith-based health system with a mission "to continue the teaching and healing ministry of Jesus Christ."