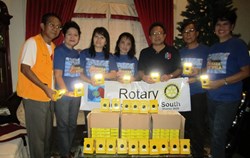 Night time is particularly dangerous in areas with out electricity.
Laguna, Philippines (PRWEB) November 27, 2013
In a statement recently issued by Rey Bongao in the Philippines, regarding the aftermath of the typhoon he comments,
"It has been broadcasted worldwide, the catastrophic devastation brought about by the world's strongest typhoon to make a landfall, with winds of over 230 mph. Never before has the Philippines experienced such magnitude of a calamity, with thousands dead, even more missing, thousands of houses are flattened to the ground, infrastructures destroyed, power systems and communication lines knocked down. Immediate needs were for the most basic needs, food, water and shelter, which are being addressed by many relief organizations. The long term rehabilitation of towns and cities is expected to take years.
My Rotary Club of San Pedro South initially joined the District 3820 fundraising for cash and material donations. Then in partnership with Grid Earth Project a special program was launched wherein for every unit of a WakaWaka power ordered, one Wakawaka solar lamp will be donated to a survivor of the typhoon. On November 26, 2013, we received our first shipment of 96 solar lamps and arrangements have been made for their immediate distribution in Concepcion, Iloilo, in Central Visayas where typhoon Yolanda made one of its landfall. It is my hope that Rotarians worldwide would support this effort. As our President, Fe Aquinde states in the video,. 'One of the most needed necessities during nighttime is lighting.'
Night time is particularly dangerous in areas with out electricity. Open fires lighting the makeshift dwellings are a constant fire hazard. The cover of darkness invites looting and also presents physical dangers, particularly for women and children. My club will be distributing as many solar lights as possible to prevent these dangers, and help our hardest hit communities recover from this tragedy."
Rey Bongao
Laguna, Philippines