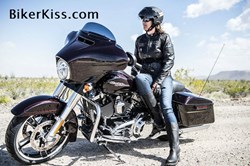 Los Angeles California (PRWEB) November 29, 2013
The latest survey at BikerKiss.com showed which type of motorcycles most of its member ride. The results were overwhelmingly in favor of one particular brand.
BikerKiss.com, submitted another survey to its members. This latest survey asked them which type of motorbike they rode. Not surprisingly, most of the popular dating site's members ride a Harley-Davidson motorcycle. The survey found a whopping 48.71 percent of the members prefer a Harley. The next most popular brand of motorcycle was the Yamaha, with 9.81% of the members riding one. The survey showed that 8.73% ride a Suzuki and 7.6% ride a Kawasaki. The last one found on the survey was the BMW motorcycle. About 3.14% of the site's members ride a BMW bike.
The survey also showed that male and female bikers have different preferences when choosing a type of bike to ride. The top four favorite motorcycle type is the same for both men and women – Harley-Davidson, Yamaha, Suzuki, and Kawasaki. After that, the fifth choice for men is the BMW with 3.3%,while the fifth choice for women is Indian Motorcycles, with 2.95%
There are many reasons why bikers love the Harley-Davidson motorcycle. Most members of BikerKiss.com are from America, and Harley-Davidson is an iconic American brand that makes bikers proud to ride. Harley-Davidson is one of the oldest brands in America and one of the only American motorcycle manufacturers to survive the Great Depression, which was a time when motorcycle sales really dropped, due to the economy. Harley survived by adapting its models to suit the economy, then went on to produce motorcycles for the Army in WWII, and resumed civilian sales after the war stopped, cementing its brand into the hearts and minds of American motorcycle enthusiasts.
Harley-Davidson has some characteristics that are unique to the brand. It has a loud, easily recognizable sound, and a distinctive, classic style. Riders report a free-as-a-bird, wind-in-the hair feeling when riding a Harley.
About BikerKiss.com
BikerKiss.com is the largest and most effective dating site for single bikers to find their match or friends. Members on the site come from all over the world because of the same interest. If you are looking for others to ride on Ducati, Harley, Triumph or BMW, BikerKiss is the right place.