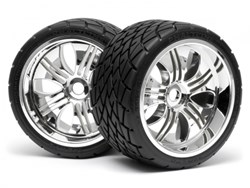 San Diego, CA (PRWEB) November 29, 2013
There are just a few days left for customers who are looking to save money on aftermarket automotive gifts for themselves and others. With the coupon code 10off, buyers can take advantage of already-low prices at UsaRim during the 2013 Black Friday Rim Sale.
Wheel and tire sets, rims and other products are designed to mount without any issues on a wide variety of vehicles in sizes ranging from 16 to 24 inches. Now, though, shoppers can save up to $400 with the 10 percent off code and get free shipping as well. While many people will have been standing in line or trying to beat the crowds to take advantage of Black Friday deals. UsaRim's sale has already begun and allows people to get some shopping done in between the in-person events and Cyber Monday.
Buyers should make sure to check out the options in both styles and finishes soon, though. Whether looking for a wheel and tire set in matte black, chrome or just a replica version of popular OEM wheels, shoppers only have until midnight on Monday, Dec. 2 to take advantage of the potential to save hundreds at UsaRim.
If buyers have any questions, customer support specialists can help narrow down options or determine whether or not a set of rims will fit your vehicle without any concerns. In addition, financing is available for those who are looking to pay off their purchases over time with a quick, simple online application.
Many people may not think of sprucing up a vehicle as a holiday gift for themselves or other. With the Black Friday Wheel and Tire Sale, it's easy to use the coupon code 10off to find affordable options to upgrade their car, truck or SUV.
---
About UsaRim: UsaRim has built a reputation for providing the highest quality aftermarket wheels, tires and wheel/tire combinations on the market. The company offers Mercedes wheels, as well as options to fit BMW, Honda, Mazda, GMC, Cadillac, Volvo, Volkswagen, Toyota, Porsche and more.