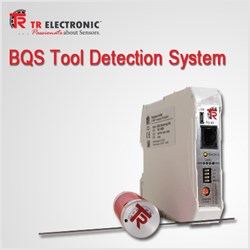 (PRWEB) November 29, 2013
TR Electronic has added a tool detection system to their wide range of quality products. The innovative BQS Tool Detection System is a sensible addition to any turning and milling machine and all machining centres. It reliably monitors tools and work pieces for tool presence, tool breakage and tool ejection. The BQS Tool Detection System is optimized for a long service life, impermeability and reliability from the start.
The BQS System ensures machining centres are working correctly every time by using positive contact to check for tool presence, tool breakage, and tool ejection. The system also performs object recognition, free space monitoring, process monitoring and checks for position definition and clamping errors. The BQS System reliably shortens downtime, prevents production loss and destruction of tools and parts, recognizes trends, minimizes rejects, eliminates consequential losses and supports the manufacturing process. Thanks to a multi-stage sealing system, the BQS System is capable of withstanding emulsions, lubricants, aggressive coolants and respirable dust and chips.
The BQS System features integrated dual modes with different scanning speeds making it perfect for various drill sizes and strengths. The robust and durable system has 4 freely programmable digital I/Os and uses upgradable USB 2.0. It features broken cable detection and the outputs are short-circuit-proof. The system has a multi-stage sealing system and an IP 68 Protection Class rating. The durable anodized aluminum housing and compact design allow for a service life of up to 10 million cycles. It features a fixed starting position with a scanning angle of 15 degrees to 300 degrees on both sides. The scanning wand's collet has a diameter of 1.2mm and can be adjusted to a variable length of 165mm max.
For additional information on TR's motion solutions or to speak with any member of their Customer Care Team, please call 1-800-265-9483, visit TR Electronic on-line at http://www.trelectronic.com or e-mail customercare(at)trelectronic(dot)com.
For a press kit or media contact, please contact:
Lindsay Ocovich
Marketing Specialist
TR Electronic North America
(519) 452-1999
locovich(at)trelectronic(dot)com
Matthew Scott, P.Eng, MBA, CMA
Director of Operations and Strategic Development
TR Electronic North America
(519) 452-1999
mscott(at)trelectronic(dot)com