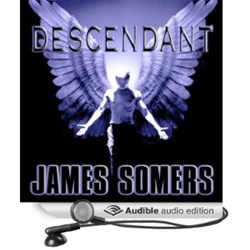 Currently ranked #7 in Amazon's Christian Fantasy genre.
(PRWEB) November 30, 2013
The incredible story of 17-year-old Brody West's discovery of a world where fallen angels with strange powers continues in the audiobook "Descendant: Descendants Saga, Book 2".
SciFi Publishing is pleased to announce its newest Science Fiction and Fantasy audiobook, "Descendant: Descendants Saga, Book 2", written by bestselling author James Somers; now available on Amazon, Audible and iTunes. http://amzn.to/1c093Uz
About Descendants Saga: Book 2
Brody has defeated Mr. Black and his terrifying dolls, restoring their human counterparts in London, but at what cost? Oliver James has been consigned to the angelic prison of Tartarus where a maddening abyss awaits. Tom has been trapped in the icy realm of Greystone with the vampires while they go insane with bloodlust, seeking a way back to the mortal world. And the son of Lucifer, Grayson Stone, has emerged on the scene, receiving praise and adoration from both mortals and Descendants alike.
Time is running out for the British Empire and a war between the Descendant clans appears imminent. Can Brody and his allies stop the insurrection sweeping through the clans, or has Lucifer's plan to rule the nations already come too far?
What People are Saying
5.0 out of 5 stars "Amazing...This saga is simply awesome"
5.0 out of 5 stars "Another great piece of work!"
5.0 out of 5 stars "Addictive."
5.0 out of 5 stars "Spell binding!"
5.0 out of 5 stars "Excellent twist and story!"
Descendants Saga: Book 2 is currently ranked #7 in Amazon's Christian Fantasy genre.
About the Author
James Somers is the author of more than a dozen Sci-fi and Fantasy novels available on Kindle including: The Descendants Saga, The Serpent Kings Saga, Percival Strange, Perdition's Gate, and The Realm Shift Trilogy.
Upcoming novels include sequels for The Descendants Saga, A prequel trilogy for Descendants and more! In addition to writing, James serves as the Pastor of Ozone Baptist Church in Rockwood, Tennessee and also works in Knoxville as a Surgical Technologist. He is married and have five children. James is always open to questions and comments from readers at http://www.jamessomers.blogspot.com where updates can be found on his novels.
About Sci-Fi Publishing
Sci-Fi Publishing enables authors to bring their work to life, creating powerful audiobooks for Sci-Fi fans. We partner with authors from audiobook production to marketing so they can continue to focus on their passion, creating new and amazing worlds.
For more information about us and to discover other great scifi audiobooks, visit us at either http://www.scifi-publishing.com or http://www.scifi-audiobooks.com.