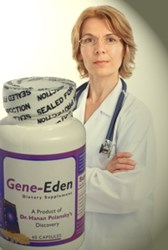 If there is a direct link between EBV antibody levels and the development of MS, infected individuals should take Gene-Eden-VIR to target the latent EBV. - polyDNA
Rochester, NY (PRWEB) December 04, 2013
The Epstein Barr Virus (EBV) is strongly linked to the development of Multiple Sclerosis (MS). Environmental and genetic risk factors are also important. However, the EBV virus can cause MS independent of other factors. Researchers noted that EBV increases the risk of MS "independent of the HLA genes (1)."
These findings show that EBV may be the necessary "link" in the chain of events that lead to the onset of MS. "Epstein-Barr virus (EBV) infection appears to be an important, and perhaps necessary, step towards the development of MS later in life. This was first identified in epidemiological studies of infectious mononucleosis and serological markers of EBV infection, with evidence that Epstein-Barr nuclear antigen-1 (EBNA-1) is a particularly important viral antigen in MS pathogenesis (1)."
In other words, many factors may contribute to the development of MS, but without the virus, the risk is very small. In support of this conclusion, researchers found that MS patients had high levels of EBV antibodies years before they developed Multiple Sclerosis. As study authors wrote, "…higher anti-EBNA-1 antibody levels can be observed years before disease onset (1)."
Researchers found that women had higher levels of EBV antibodies (an indication of EBV infection) than men. Interestingly, women make up the majority of MS cases (1). polyDNA suggests that if there is a direct link between EBV antibody levels and the development of MS, infected individuals should take Gene-Eden-VIR to target the latent EBV.
"Epstein-Barr virus, frequently referred to as EBV, is a member of the herpesvirus family and one of the most common human viruses. The virus occurs worldwide, and most people become infected with EBV sometime during their lives." This is according to the CDC in a page last updated on May 16, 2006 (2).
A study published on August 12, 2013 in the peer reviewed, medical journal Pharmacology & Pharmacy, in a special edition on Advances in Antiviral Drugs, showed that Gene-Eden-VIR reduced EBV symptoms. Study authors wrote that, "Individuals infected with the Epstein Barr Virus…reported a safe decrease in their symptoms following treatment with Gene-Eden-VIR (3)." The study authors also wrote that, "We observed a statistically significant decrease in the severity, duration, and frequency of symptoms (3)."
To learn more about Gene-Eden-VIR, and EBV, visit http://gene-eden-kill-virus.com/EBV.php. All orders of Gene-Eden-VIR are completely confidential, and no information is shared or sold to any third party. Privacy is assured.
References:
(1) Combining HLA-DR risk alleles and anti-Epstein-Barr virus antibody profiles to stratify multiple sclerosis risk. Published on July 25, 2013.
http://www.ncbi.nlm.nih.gov/pubmed/23886832
(2) Epstein-Barr Virus and Infectious Mononucleosis – CDC. Page last updated on May 16, 2006.
http://www.cdc.gov/ncidod/diseases/ebv.htm
(3) Gene-Eden-VIR Is Antiviral: Results of a Post Marketing Clinical Study
http://gene-eden-kill-virus.com/PP_Gene-Eden-VIR-is-Antiviral.pdf
polyDNA is a biotechnology company that develops dietary supplements using the unique scientific method developed by Dr. Hanan Polansky, which is based on Computer Intuition.
In addition to his unique scientific method, Dr. Polansky published the highly acclaimed scientific discovery, called Microcompetition with Foreign DNA. The discovery explains how foreign DNA fragments, and specifically, DNA of latent viruses, cause most major diseases.
polyDNA developed Gene-Eden-VIR, an antiviral natural remedy that helps the immune system kill latent viruses.