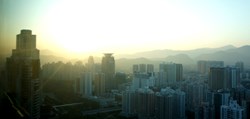 Shenzhen, China (PRWEB) December 01, 2013
With great excitement and anticipation, the Spark team arrived in advance of the show to prepare the Spark Winners Pavilion. "Spark was honored to be invited to participate in this inaugural expo," said Spark's President, Peter Kuchnicki. "We have a beautiful pavilion designed by Mitchell Mauk at the A1 stand in the exhibit hall. Pretty cool!"
THe CIIDF is being produced by the Shenzhen Industrial Design Association (SIDA) and partners from the community. "There are over 7,000 design firms and in-house departments in Shenzhen," stated Ms Ivy Yang, International Relations Director of SIDA. "That is the highest concentration in all of China. We look forward to a large turnout this weekend."
The fair runs from November 30 to December 3rd, at the Shenzhen Convention & Exhibition Center. The long list of exhibitors includes the design organizations of Sweden, Finland, Taiwan, Denmark, Italy, France, Florence, Korea; well-know designers like Jacob Jensen Design, Robert Majkut from Warsaw, David Lewis and firms like CIGA, Newplan, SEEDPOSH, NO Design and many others-- over 5000 exhibits from 25 countries.
With three conferences, multiple workshops, seminars and panels, well over 100,000 visitors are expected over the four days. Conference luminaries include Karim Rashid, Prof. Uwe R. Bruckner, Lorraine Justice, Ralph Weigman and He Renke.
"This is an exciting opportunity for the winners of the Spark Awards," said Kuchnicki. "We have winners from 2011, 2012 and 2013 on display for Asia--and indeed the world to see. Contingents of the Press have their video and print crews roaming the hall. Spark completed 8 interviews just this morning, with more planned throughout the event."
CIIDF is open to design professionals and interested consumers of design. Their website is the portal to more information--click here.
Bonus Information
The Spark Design Award winners will also be exhibited in the Autodesk Gallery in San Francisco in February, in Taipei in April/May and may be viewed at the Spark website Galleries.
Spark is proudly supported by Autodesk, Core77, ArchNewsNow, Archinect, Bustler, Pluo Consulting, Gensler and RIOT Creative Imaging.
All seven Spark competitions will be back: Call For Entry, April 15, 2014.
The Spark Design Awards core mission is to help create a better world though design excellence. Learn more about this organization and all these competitions at the Spark website landing page at http://www.sparkawards.com.