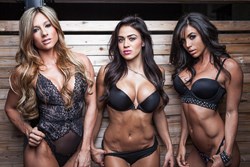 (PRWEB) November 29, 2013
SHREDZ Supplements, the producer and distributor of all-natural, gluten-free fitness supplements, has announced plans to team with renowned fitness photographer Ludwig Araujo to release an Alpha Female 2014 calendar, highlighting the female sponsored athletes on Team SHREDZ.
The Alpha Female calendar will feature the latest images of Paige Hathaway, Brittany Coutu, Ainsley Rodriguez, and Nikki Leonard shot exclusively by Ludwig Araujo, the fitness photographer responsible for some of Hathaway's most popular images on Instagram, Facebook, and Fitness Publications.
Hathaway says she thinks the Alpha Female calendar will be a hot item this Christmas season and she cannot wait to share this new product with her fans across the world.
"My followers have asked about doing a calendar and I'm sure that the other women on Team SHREDZ get the same thing. So, I think it's great timing that SHREDZ is releasing this calendar right before the holidays. I'm sure this is going to be a 'Happy Holidays to me' present for a lot of people."
The 2014 Alpha Female calendar will be available to be purchased in time to be a stocking stuffer. It's expected to retail at $39.99.
SHREDZ, the fastest growing name in the health and fitness industry, was founded in 2011 and is headquartered in Jersey City, N.J. The company is led by co-founder and Chief Executive Officer Arvin Lal. SHREDZ offers maximum strength nutraceuticals, including its flagship product, SHREDZ Maximum Strength Fat Burner. The entire product line is manufactured and warehoused in the United States and distributed throughout more than 50 countries. For more information, visit http://www.shredz.com.