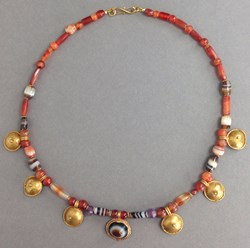 These objects will undoubtedly out live those of us who collect them, but the collector becomes a link in a chain, preserving the past for future generations
New York, NY (PRWEB) November 30, 2013
Hixenbaugh Ancient Art announces the recent acquisition of over forty ancient objects. Among the new acquisitions is a collection of jewelry from the Near East.
The jewelry represents examples from a variety of cultures including Roman, Canaanite, Sassanian, Babylonian, Byzantine and Egyptian. Among the collection is an ancient Roman necklace comprised of gold shields, banded sardonyx, carnelian, and amethyst beads with modern gold clasp and a pair of large ancient Roman gold earrings consisting of hollow gold dolphins suspended from large coiled hoops, with modern pearls and gold loops.
Ancient jewelry represents a direct link to the past as the form and function has remained relatively consistent through the passage of time. The beauty of fine gems, precious metals, glass beads and amulets is timeless. Many ancient items of jewelry can still be worn today and some need only to be restrung with modern material.
As Randall Hixenbaugh, Gallery Director, notes, "The beauty of jewelry from antiquity is timeless. In addition to the aesthetic appeal, ancient jewelry provides a special bond to the past as we can still relate to their functionality in the present. These objects will undoubtedly out live those of us who collect them, but the collector becomes a link in a chain, preserving the past for future generations". These newly acquired items as well as many other important antiquities are on view and available at our New York gallery (Tuesday – Saturday 11am – 6pm) and can be viewed on our web site (http://www.hixenbaugh.net).
ABOUT HIXENBAUGH ANCIENT ART
Hixenbaugh Ancient Art Ltd, located on the Upper East Side of Manhattan, is dedicated to handling fine authentic antiquities (Greek, Roman, Egyptian, Judean, Ancient European, Ancient Mediterranean, Pre-Columbian and Near Eastern Art). All of the pieces we handle are legally acquired, in complete accordance with US and international regulations and laws concerning the import and sale of ancient objects. All objects are guaranteed genuine and as described. Hixenbaugh Ancient Art is a member of the Art and Antique Dealers League of America (AADLA), the Confederation Internationale des Negociants en Oeuvres d'Art (CINOA), the Appraisers Association of America (AAA), and the International Association of Dealers in Ancient Art (IADAA).
At Hixenbaugh Ancient Art, we believe that responsible collecting of antiquities is not only a pleasurable pursuit and wise investment, but an important responsibility. Today's collectors are custodians of the past, links in a chain, preserving the past for future generations by passing their collections on to their heirs, reselling them to eager collectors, or donating them to museums. In doing so, the collector of ancient art reaps the many benefits of acquiring truly unique and thought provoking objects that have come down to us from the ancients, whose influences pervade every aspect of the modern world.
If you would like more information about this topic contact Robert O'Donnell or Randall Hixenbaugh at (212) 861-9743 or info(at)hixenbaugh(dot)net.