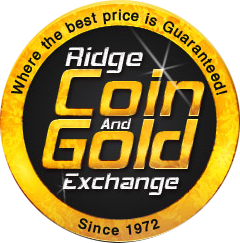 Rochester, NY (PRWEB) November 30, 2013
Ridge Coin has been helping customers sell unwanted gold and jewelry for over 40 years at their Irondequoit location and recently celebrated their second store opening in Henrietta. Now, Ridge Coin has announced they will be helping Rochester, NY area consumers buy and sell bitcoins, a virtual currency that has boomed in popularity over the past year.
Just two months ago bitcoins were priced at just over $100 per BTC, or full bitcoin unit. As of November 30, prices have reached over $1200/BTC. With this increasing popularity in bitcoins as a currency, Ridge Coin has decided to accept them as payment, as well as help individuals in the Rochester, NY area trade in bitcoins.
The rise of virtual currency is in part to its increasing use. More and more businesses and online stores are now accepting bitcoins, making the currency more viable. It can be transferred quickly and easily around the world and used for a wide variety of goods and services.
Many individuals also see virtual currency as an investment opportunity. With a 1200% rise in value in the past two months, the opportunity for profit has attracted many speculators.
Ridge Coin & Gold Exchange is now helping individuals buy and sell bitcoins. Since purchasing bitcoins can take a certain amount of technical savvy, getting the best price can be difficult, and there are often delays in setting up virtual wallets, using Ridge Coin to broker trading can provide a considerable advantage.
For more information, visit their new location at 945 Jefferson Road in Rochester NY, call (585) 234-5678, or visit them online at http://www.RidgeCoin.com.