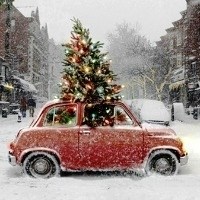 Dallas, TX (PRWEB) December 04, 2013
"Holiday driving can be extra dangerous but with a little planning, a defensive driving attitude and more overall awareness, everyone can make it do their destination without ruining the happy times!" says Kyle Collins, founder of WirelessDefensiveDriving.com.
Below are 5 tips to make the driving experience more fun and reducing the risks of accidents:
1 - Stop drinking well (several hours) before driving. Everyone has seen the commercials stating "drink responsibly", however as the message implies, there are no set rules on what drinking responsibly means. If getting on the road for an extended drive, the BEST solution would be not to drink at ALL the day of the departure. The second best solution is to have designated driver who is alcohol free and can safely take everyone home.The 'one drink per hour' rule is a good place to start but not always safe and sufficient to control impairment. Each driver should know their drinking limit and stop drinking well before feeling signs of impairment.
2 - Have a planned route, tell someone when you are leaving and when you expect to get to your destination. Make sure the cell phone is charged before heading out. Should the driving route be in an area with no cell signal, having someone expecting you to arrive at a pre-arranged certain place/time is a good idea ("I should be home at such time")
3 - Have a road emergency kit in your car, especially containing flares and light signals to notify other drivers of your presence in bad weather conditions or at dark. Make sure to bring blankets and covers to keep everyone warm while waiting for help.
4 - Rest as much as possible before getting on the road. The holidays for most people mean little sleep, over indulging on eating and drinking. Please stop often to rest and stretch and don't be in a hurry to get to your destination. Allow for extra time for the drive and keep the schedule flexible.
5 - Before getting on the road, make sure the vehicle is in good shape. Check the car fluids, tires, wiper blades and last but not least, the battery. Cold conditions can increase the speed at which a weak battery is discharged. Have your local auto-shop test the battery and replace it if necessary.
WirelessDefensiveDriving.com has a mobile defensive driving course that can remind the drivers on how to be safe on the road. Please visit WirelessDefensiveDriving.com website for more tips.