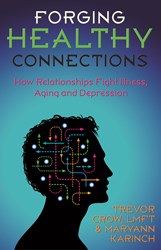 (PRWEB) November 30, 2013
At 5 PM at the Fairfield University Book Store on Post Road, Southport, CT marriage and family therapist and talk show host Trevor Crow will be doing a presentation and book signing for her new title, Forging Healthy Connections (New Horizon Press, November 2013).
"From the moment of birth to the second we die, we need relationships," notes Crow, whose remarks at the event will focus on strategies to strengthen healthy relationships. "We get sick, mentally and physically, without the emotional and physical security that flows from positive connections to other human beings."
In Forging Healthy Connections, Crow and co-author Maryann Karinch explore the science behind their premise and show how to build a healthy network of connections so people can create an emotional safe haven that directly and positively impacts health. They examine why so many of fail or lose relationships, discuss the types of relationships that are often lacking, explore trust issues, explain the reciprocal effect and, most importantly, describe how to establish and practice empathy with friends, family and business associates.
Forging Healthy Connections is a powerful resource for combating the loss of personal bonds in today's impersonal digital age. It provides readers with the tools needed to achieve and maintain healthy personal connections that will ultimately lead to a lifetime of satisfaction, fulfillment and meaningful relationships.
Trevor Crow, LMFT, hosts "Keeping Connected," a weekly radio show about relationships, and is a licensed marriage and family therapist. Crow has a Masters in Marriage and Family Therapy from Fairfield University, Connecticut and also holds an MBA from Harvard University and a BS from Parsons the New School of Design. She practices and resides in Southport, Connecticut.
Maryann Karinch is the author of 19 books, most of which focus on human behavior, and is the founder of The Rudy Agency, a literary agency specializing in non-fiction. She holds bachelors and masters degrees from The Catholic University of America in Washington, DC and is a certified personal trainer. She lives in Estes Park, Colorado.
Nonfiction, 5 1/2 x 8 1/2, 240 pages
Self-help/Relationships
LC# 2013931894, world rights
ISBN-13: 978-0-88282-452-9 (pb), $14.95
ISBN-13: 978-0-88282-453-6 (eBook), $14.95