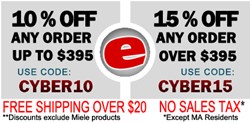 Quincy, MA (PRWEB) December 02, 2013
With the short holiday shopping season eVacuumStore.com has unveiled competitive Cyber Monday Vacuum promotions including special reduced prices on a number of products. The online vacuum superstore will offer 25% off a number of Electrolux vacuums, and a number of central vacuum units. Other discounts include 10% off any purchase up to $395 and 15% off any purchase over $395. The free shipping threshold has also been lowered to $20.00, and five Electrolux Nimble's will be priced at $149.99.
If a new vacuum is not what you need this Cyber Monday than you may want to consider stocking up on bags, filters, or parts at these low prices. These discounts are only available on Cyber Monday and are the deepest discounts the company has offered says Bob Evans a customer service manager at eVacuumStore. Shop online or call the extended customer service hours which range from 8am-10pm EST on Cyber Monday.
About eVacuumStore.com:
eVacuumStore.com is a ecommerce superstore that specializes in sales, and service of vacuum cleaners and central vacuums. The customer support team provides free technical assistance to customers that have questions installing their parts. The company has also pioneered Electrolux and SEBO 30 days risk free trials.