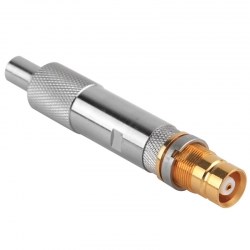 (PRWEB) December 02, 2013
Recently, RFcnn.com, a reliable company of various kinds of baluns, has announced its new items: BNC mini baluns. To expand its international market, the company has launched a promotion of these practical baluns. They are now offered at wholesome prices, up to 34% off. The special offers will last until December 15, 2013.
According to the CEO of the company, RFcnn.com is one of the leading suppliers in the field. It has promised to make things convenient for the people at home and abroad. At its online store, devices of every description are available, and a large proportion of its products sell well in the world. All its designers and engineers are experienced. It has been offering high end baluns for a long time.
"We are happy to announce the new BNC mini baluns. This time, we want to meet the great demand on baluns and expand our international market. If you would like to buy high quality baluns online, please visit our website," the CEO of the company says.
The company's products include bulkhead connectors, din RF connectors, coaxial surge protectors, quarter wave surge protectors, mini baluns, gas tube surge arresters and so on. All of them are durable-modeling items.
About RFcnn.com
RFcnn.com is an online shop of high end devices. It is a China based company that aims to provide customers with high quality products at the lowest possible prices. Customers can try the company's products through sample orders with a long-term contract. Most customers come back soon after receiving their first deals.
More details about the company's high quality connectors can be found at http://www.rfcnn.com/Mini-Balun-1-6-5-6-L9-female-to-IDC-AWG24-26-RF-Connector-88.html.