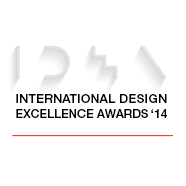 Herndon, VA (PRWEB) December 02, 2013
On Dec. 2, 2013, the Industrial Designers Society of America (IDSA) opens its International Design Excellence Awards® (IDEA) 2014 and begins this year's worldwide search for exceptional design that epitomizes quality across design mediums and platforms. For 34 years, IDEA has recognized design excellence in products, sustainability, interaction design, packaging, strategy, research and concepts. The call for entries will remain open until February 14th, 2014. We invite designers, students and companies worldwide to participate, share exceptional designs and help IDEA 2014 showcase the best examples of design insight, talent, passion, innovation and design excellence to media, business, consumers and end users worldwide. The 2014 winners are announced in July on IDSA.org and through our media partnerships worldwide, which include Fast Company, Curve magazine, Core 77, Design Bureau, Plastic News and Yanko Design. For the fifth year, The Henry Ford in Dearborn, MI will accept the winners into its permanent collection.
A jury of independent design experts will use the following criteria in selecting winning designs:

Innovation: design, experience, manufacturing
Benefit to the user: performance, comfort, safety, ease of use, usability, user interface, ergonomics, universal function and access, quality of life, affordability
Responsibility: benefit to society, environment, culture and economy
Benefit to the client: profitability, increased sales, brand reputation, employee morale
Visual appeal and appropriate aesthetics
Design research category insights: usability, emotional factors, unmet needs, testing rigor and reliability
Design strategy category: internal factors and methods, strategic value and implementation
IDEA accepts entries in the following categories:
Automotive & Transportation
Bathroom, Spa & Wellness
Children's Products
Commercial & Industrial
Communication Tools
Computer Equipment
Design Strategy
Digital Design
Entertainment
Environments
Garden & Patio
Home Furnishings
Kitchen
Sports, Leisure & Recreation
Medical & Scientific
Office & Productivity
Outdoor Products
Packaging & Graphics
Personal Accessories
Research
Service Design
Social Impact Design
Student Designs
Concepts Welcome
This year the jury is chaired by Tad Toulis, VP of Design, Sonos. More members of the 2014 IDEA Jury can be found here: http://www.idsa.org/category/tags/idea-2014-jury.
For complete competition information, visit: http://www.idsa.org/idea.
See last year's winners: http://www.idsa.org/idea-2013-gallery.
About IDEA
Started in 1980, the IDEA program fosters business and public understanding about the impact of industrial design excellence on the quality of life and the economy. The Henry Ford houses IDEA winners in its permanent collection to continue to tell the story of American innovation. Curve magazine, Core 77, Design Bureau, Fast Company, Plastic News and Yanko Design are media partners for IDEA 2014.
About IDSA
With its roots reaching back to 1938 and founded in 1965, the Industrial Designers Society of America (IDSA) is the world's oldest, largest, member-driven society for industrial design. IDSA represents professionals in product design, interaction design, human factors, ergonomics, design research, design management, universal design and related design fields. The society produces the renowned International Design Excellence Award® (IDEA) competition annually; hosts the International Design Conference and five regional conferences each year; and publishes Innovation, a quarterly journal on design, and designBytes, a weekly e-newsletter highlighting the latest headlines in the design world. IDSA's charitable arm, the Design Foundation, supports the dissemination of undergraduate and graduate scholarships annually to further industrial design education. The organization has more than 3,000 members in 29 professional chapters in the U.S. and internationally.