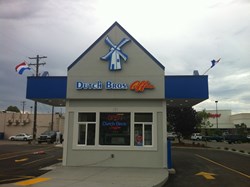 We want to help them enjoy their lives without worry.
Grant Pass, OR (PRWEB) December 02, 2013
On Friday, Dec. 6, all 213 Dutch Bros. Coffee locations in seven states will donate drink proceeds to youth programs selected by local owner-operators.
It's Dutch Bros. Coffee's annual Buck for Kids Day, which last year resulted in $139K raised for community youth organizations.
Because Dutch Bros. stands are locally owned and operated, owners choose the local organizations dear to their hearts that will benefit from funds raised. Organizations range from regional Boys & Girls Clubs to Christmas toy collection programs.
Dutch Bros. Coffee Co-Founder Travis Boersma, a father of four himself, says, "We love kids. Their enthusiasm for life is contagious, and we want to help them enjoy their lives without worry."
Dutch Bros. Coffee donates over $1 million every year to nonprofit organizations and causes, in an effort to achieve its goal of "making a difference, one cup at a time."
To see which organization will be supported this year in your area, visit: http://www.dutchbros.com/news/2013-buck-for-kids.