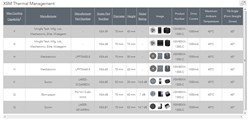 users can get very detailed compatibility information for specific products and use conditions
San Jose, CA (PRWEB) December 02, 2013
Xicato, a leading developer of superior light quality from LED modules, announced today that it has launched a searchable database of drivers, reflectors and heat sinks that have been evaluated by Xicato and can be integrated with Xicato's light sources. Users can search and filter on a wide range of parameters to match the desired solution for their application. Xicato does not market or sell the drivers, heatsinks or reflectors and therefore is free to present the broadest range of qualified solutions.
"Thermal and electrical solutions in particular are determined by lumen package, drive current and even CRI. By putting all the information in a web-enabled database, users can get very detailed compatibility information for specific products and use conditions," said John Yriberri, VP Global Applications. "Our 'whole product approach' is designed to make it as easy as possible for our luminaire manufacturers to develop their products."
"Moving all this information – hundreds of line items and thousands of potential combinations – from spreadsheets to a real-time database on the web makes it easier than ever for our customers to get up-to-date information that directly supports their design efforts," said Yriberri.
"It's just simple and fast," said Tom Tyler, Engineering Manager at Times Square Lighting. "With Xicato's applications databases I know that I can quickly access information about compatible drivers and reflectors that I need to design and prototype new luminaires we want to bring to market."
"Developing a luminaire that will deliver quality, consistent and efficient light over time requires consideration of a wide range of factors and the interaction between electronic and mechanical interfaces common to LED based solutions," said Yriberri. "Xicato's databases go a long way to ensuring that our customers can start with good information."
About Xicato
Xicato is changing the way the world sees and experiences light. We believe that with better light, shoppers will buy more, diners will order more and guests will be more comfortable and happier with their experiences. In turn, better lighting will contribute to higher sales, margins and brand value. Xicato has engineered new sources of light, Standard, Artist and Vibrant that capture the human preference for experiencing light in different ways and extend the range of choices for the lighting design community. The true value of Xicato light lies in delivering on the aesthetic and economic potential of LEDs: the quality of light, its efficacy and ownership cost for all environments including retail, hotels, restaurants, bars, museums and residences.