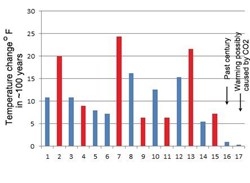 Calgary's GHG Reduction plan claims it is 'minimizing ... climate change..and severe weather events.' None of these statements are founded on scientific evidence
Calgary, Alberta, Canada (PRWEB) December 03, 2013
A new report entitled "The Global Warming-Extreme Weather Link: A Review of the State of Science" by Dr. Madhav Khandekar is making waves around the world, challenging assumptions about extreme weather say Friends of Science. The report was published by the Global Warming Policy Foundation of the UK November 27, 2013.
"Extreme weather events captured on television are often automatically linked to 'global warming' by media pundits," says Ken Gregory, research director of Friends of Science. "In fact, as shown in the Khandekar report no scientific evidence supports these assumptions."
In Britain the Sunday Telegraph of Dec. 1, 2013 is reporting that climate change policies will cost taxpayers more than £80 billion by the end of the decade.
Gregory points out, "For example, the City of Calgary's GHG Reduction plan claims it is... 'minimizing potential negative impacts...Climate change and ...severe weather events.' None of these statements are founded on scientific evidence, yet this misinformation is driving city planning."
Severe weather has not been exacerbated by the warming that stopped in 1998.
"As reported in Forbes September 10, 2013, the International Panel on Climate Change (IPCC) agrees that global warming stopped 16 years ago. Dr. Khandekar's paper demonstrates that extreme weather is not more common. Why then are we embarking on costly Greenhouse Gas (GHG) reduction plans which have skewed public policy and development issues in very costly ways, when they are based on faulty science?" asks Gregory.
Gregory notes that the IPCC was established with a mandate to study human causes of climate change..."to assess scientific, technical, and socioeconomic information that is relevant in understanding human-induced climate change, its potential impacts, and options for mitigation and adaptation." The wide-spread theory of human-made carbon dioxide emissions being a cause of global warming has not been proven. The evidence shows that despite a rise in carbon dioxide, no warming is occurring.
"The sun is the main driver of climate change," says Gregory. "Many scientists around the world agree on this. Their papers are not included in the IPCC climate reviews because the IPCC has a mandate to assess human factors in climate change."
One such researcher is astrophysicist Nir Shaviv of Hebrew University who notes there is a 'divergence between theory and data" of the IPCC's latest report.
According to Friends of Science, GHG reduction plans and low-carbon policies significantly waste public funds for no rational outcome. Canada pulled out of Kyoto in December 2011 to avoid an estimated $14 billion in penalties.
"Why are cities attempting to establish a mandate that is not required by the federal government?" says Gregory.
As noted by Princeton University physicist Dr. William Happer in US Senate Environment Testimony July 2, 2009, "CO2 is not a pollutant and it is not a poison... Our exhaled breath contains about 4% CO2. That is 40,000 parts per million, or about 100 times the current atmospheric concentration. CO2 is absolutely essential for life on earth."
Friends of Science invite the public to join and become members. A gift CD of original Bob Erlendson jazz is offered now with every 3 year membership (void where prohibited). Memberships are available on-line. International applicants should only use PayPal or Credit Card.
About
Friends of Science have spent a decade reviewing a broad spectrum of literature on climate change and have concluded the sun is the main driver of climate change, not carbon dioxide (CO2). The core group of the Friends of Science is made up of retired earth and atmospheric scientists.
Contact:
Friends of Science Society
P.O.Box 23167, Connaught P.O.
Calgary, Alberta
Canada T2S 3B1
Toll-free Telephone: 1-888-789-9597
Web: friendsofscience.org
E-mail: contact(at)friendsofscience.org