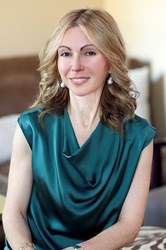 If you are bothered by your underarm sweat, there is something you can do about it, miraDry procedure provides a safe and lasting solution for excessive underarm sweat.
Westport, CT (PRWEB) December 12, 2013
Dr. Tanya Futoryan is one of the first physicians in Connecticut to offer the miraDry® Procedure, a new treatment option that provides a safe and lasting solution for excessive underarm sweat, a debilitating condition also known as primary axillary hyperhidrosis. Over 18,000 treatments have been performed worldwide and the procedure is supported by compelling safety and efficacy data from multiple clinical studies with recent clinical data showing patients treated with the miraDry System experienced sustained improvement in sweat reduction and quality of life two years post treatment. Clinical data shows an average sweat reduction of 82 percent and high patient satisfaction of over 90 percent.
The miraDry Procedure is performed in the physician's office and takes approximately one hour. The miraDry Procedure, cleared by the U.S. Food & Drug Administration, delivers energy noninvasively to the underarm sweat glands and heats and eliminates those glands. Sweat glands do not grow back resulting in a lasting reduction of sweat. The procedure requires little to no downtime, so patients can go about their normal routines after treatment. The full treatment plan requires two procedures to maximize results.
Sweating is normal and keeps people comfortable, hydrates the skin and balance's the body's fluids and electrolytes. But excessive sweating is unnecessary and is more of a hindrance than a help. In people with primary axillary hyperhidrosis, the sweat glands under the arms remain active even when unnecessary. Excessive underarm sweat can cause embarrassment and shame and prevent people from fully embracing their lives. Though a third of people suffering from bothersome underarm sweat say it negatively impacts their quality of life, less than 40 percent of those affected seek medical treatment according to the National Institutes of Health.
"If you are bothered by your underarm sweat, there is something you can do about it," said Dr. Tanya Futoryan, founder and medical director of Westport Dermatology & Laser Center. "Millions of Americans are bothered by their underarm sweat and they're not aware of solutions beyond oral medications and antiperspirants. Although oral medications and prescription antiperspirants provide temporary relief, many are largely ineffective. With the miraDry Procedure people can expect lasting results and stop worrying about underarm sweat."
Patients can visit http://www.westportderm.com or call (203)226-3600 to schedule a consultation, or visit http://www.miraDry.com to learn more about the procedure.
About Westport Dermatology & Laser Center
Westport Dermatology & Laser Center provides unparalleled medical care, aesthetic and surgical treatments, and excellent patient service in a warm and comfortable atmosphere. We use advanced technology, including state of the art laser systems and cutting-edge medical treatments. The practice is committed to offering only the safest and most effective cosmetic and medical therapies.
Dr. Tanya Futoryan is board-certified dermatologist and member of both the American Academy of Dermatology (AAD) and the American Society for Dermatologic Surgery (ASDS).