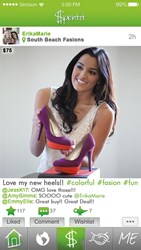 We are very excited for Spentit's first holiday season. Our unique features will make Spentit a shopper's best friend.
(PRWEB) December 03, 2013
Spentit (http://www.spentit.com/), a social media app, issues how-to tips for making the holiday shopping season a breeze. The one of a kind purchase sharing app, available for free on The App Store, allows users to upload photos of their purchases and share them with their network, along with information like prices and sales, location of purchase, product feedback, and more.
"Since our launch in August, we have seen tremendous growth," said Ryan Napier, Spentit's founder and CEO, "We are very excited for Spentit's first holiday season. Our unique features will make Spentit a shopper's best friend."
To get started, users simply create a profile. Users are able to link to their Facebook (https://www.facebook.com/SpentitApp) to find friends already using the app. In addition to following friends and family, users are able to browse popular purchases made within a specific category, such as DIY & Crafts, Events, Fitness, Hair & Beauty, Men's & Women's apparel, Holidays, Humor, Kids, and more.
By browsing the Spentit app, users can see what hot holiday purchases are being made – as well as where and for what price. Not sure what to get a friend this year? Spentit's wish list feature allows you to view what others have added to their lists. Or maybe you need some inspiration on where to purchase the latest, most affordable hair straightener? Check out what others are purchasing under the Hair & Beauty category. Get real reviews from people who have purchased the item and from what store.
In addition to using the Spentit app, the following are how-to tips for picking the perfect gift:

Establish a budget with a spreadsheet, or other budgeting app. The holidays can be expensive, and spending for family, friends, and co-workers can add up.
Instead of asking what they want for the holidays, ask more specific questions like, "Do you read on a regular basis?" or "Are you a big fan of Michael Kors?"
Observe someone's living space, which says lot about a person. What types of colors are on the walls? What style of furniture do they seem to like? Then, translate that information into accessories, which can make the perfect gift.
Ditch the gift cards, and include gift receipts, instead. Surprises can be everything, and they can also be more personal.
Finally – and probably the best advice of all—take a deep breath during the holiday season, and remember that it's about spending time with family and friends. Oftentimes, we can be caught up in the gift-giving process by wanting to please others; but, at the end of the day, it's the simple thought that counts.
For all inquiries and more information on Spentit, please visit http://spentit.com/.
About Spentit:
Beta launched in November 2012 and officially launched in August 2013, Spentit is a unique purchase sharing social platform for use on mobile applications, created by R&N Technologies co-founders, Nino Natale, Andrew VanderLind, Ryan Napier and Aziz Ahmed. Spentit helps users connect based on common purchasing behavior and interests. Users can instantly share purchases with friends, family, and other users around the world. Spentit is a fun and easy way to share interesting purchases and to get ideas of new things to buy.