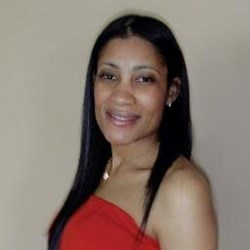 "Sickle Cell Anemia has always been a part of me. My father suffered with this disease my entire life and I was always well educated about it; so I thought..." - Mailkah Amoh
New York, NY (PRWEB) December 03, 2013
Budding entrepreneur Malikah Amoh founded The Timmy's Heart Foundation for Sickle Cell Anemia Awareness The Timmy's Heart Foundation's mission is to educate people about sickle cell anemia and raise awareness of the importance of pre-marital genetic testing. In addition The Timmy's Heart Foundation endeavors to help families and their children who are suffering from sickle cell anemia with insights on treatments as well as outlets for emotional support. Malikah knows full well the burden sickle cell anemia can be on families. Malikah's hope is that her foundation will make this burden easier to "shoulder."
On December 17th 2013 Malikah Amoh will be hosting her foundation's first mixer and toy drive in New York City at the "Ultra Plush" New Hot-Spot EVR, where she will be accepting donations of toys and clothes in the hopes to bring some joy to children suffering with sickle cell during this holiday season
Malikah Amoh was born and raised in New York City. In the early 90s Ms. Amoh attended The Borough of Manhattan Community College where she majored in business management. She soon discovered that raising and caring for a child with sickle cell anemia made it impossible to have a traditional career. In response Malikah changed her career focus. Malikah enrolled and graduated cosmetology school then embarked in a new direction. Noticing how misinformed some of her clients were in regards to issues of health, diet, nutrition etc. She had an epiphany. Malikah saw a void in "the market" that she knew she could fill. With her "entrepreneurial juices" now flowing she decided she wanted to start a company, which focused on health and wellness.
In 2009 she started Dynasty Enterprises which specializes in the sale and distribution of health & wellness products to hundreds of thousands of consumers and retailers globally. Dynasty Enterprises offers a wide range of products such as skin care products, dietary supplements, beauty supplies as well as lifestyle consultation.
In 2011 Dynasty Enterprises partnered with premier network marking firm IT Works Global to promote their signature product "The Ultimate Body Applicator." "The Ultimate Body Applicator" is a line of body wraps. Body wraps tightens tones and firms the abdominal area with measurable results. "The Ultimate Body Applicator" has helped numerous people lead happier and healthy lives. When it comes to health and wellness takes a "holistic" approach. Malikah believes that the body's outward appearance has a reciprocal relationship to it's inward well-being.
With all the success Malikah has achieved she believes the time is right to use her organizational skills, her talents and her notoriety to help raise sickle cell awareness. Sickle cell anemia globally affects over 150,000 people annually and resulted in an estimated 29,000 deaths every year. Malikah has been personally affected by sickle cell anemia with the untimely passing of her father when she was only 11 years of age and the burden of knowing that she also is a carrier of the "sickle cell S" trait. Malikah has always been very conscious of the seriousness of this disease. With the hopes of not passing on the trait to any future offspring Malikah and her husband underwent genetic testing. Unfortunately the test did not detect a rare form sickle cell anemia trait; "Sickle Cell C" which was then spread to her son.
In the coming year Malikah Amoh and her newly founded The Timmy's Heart Foundation for Sickle Cell Anemia Awareness will organize and participate in a series of events aimed at promoting sickle cell anemia awareness and helping those afflicted.
To participate & attend in the toy and clothing donation mixer:
EVR
54 West 39th Street
Between 5TH & 6TH Avenues
New York, NY 10018
December 17th Starting at 7PM