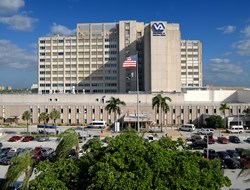 Miami, FL (PRWEB) December 03, 2013
More than 40 years after her son was awarded the Medal of Honor for his valor in Vietnam, Georgie Carter-Krell will be presented with the official Medal of Honor Flag at a ceremony at the VA medical center bearing her son's name.
U.S. Southern Command Commanding Officer General John. F. Kelly will present the flag at the Bruce W. Carter VA Medical Center Dec. 5 at 1 p.m. Marine Corps Pfc. Bruce Carter served as a radio operator in Vietnam and was killed in action when he smothered a grenade blast with his body, helping save the lives of his fellow Marines.
Carter was recognized in 1971, and his mother received the Medal of Honor in 1971 for her son. The Miami VA Medical Center was renamed in 2008 to reflect the only Medal of Honor recipient from South Florida during the Vietnam War.
Who: Miami VA Healthcare System
What: Medal of Honor Flag presentation
When: Dec. 5, 1 p.m.
Where: Bruce W. Carter VA Medical Center, West Patio
1201 NW 16th ST, Miami FL 33125