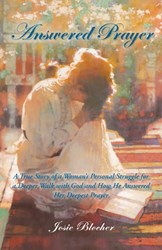 Touches On the Personal Trials of Loneliness, Forgiveness and Betrayal
Muncie, IN (PRWEB) December 04, 2013
When it comes to navigating life's difficulties, reflection and faith can help smooth the path to healing.
"Answered Prayer" tells the story of one woman's struggle and search for a connection with God and the result of her journey. The memoir touches on the personal trials of loneliness, forgiveness and betrayal.
Compiled from her personal journals and memoires, author Josie Blocher uses her own experiences and emotional journey to share lessons of God's power, protection, guidance, willingness and ability to answer our heart's prayers.
"My particular experiences and sufferings allow me to share a special and relatable perspective on personal trials," said Blocher. "I believe God carried me through the dark times of my life, and provided me with his light – a message – to share with others."
Through Blocher's dedication to studying and practicing God's word, she was able to develop an ability to forgive, a deeper faith and a stronger relationship with God.
For more information, please visit bookstore.westbowpress.com.
Answered Prayer
By: Josie Blocher
Hardback: $30.95
Paperback: $13.95
E-Book: $3.99
ISBN: 9781490800851
Available at bookstore.westbowpress.com, amazon.com and barnesandnoble.com.
About the author
Josie Blocher loves to write, and she has published many poems and children's books and has written a devotional entitled "Diary of the Heart". She is the owner and a broker of Blocher Realty and Management and is active in her church. Blocher currently lives in Muncie, Indiana, with her husband of more than 45 years.