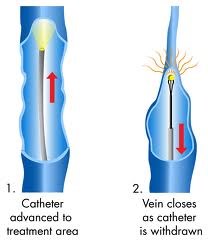 The newest vein disease treatments are minimally invasive, meaning they can be performed right in your NY vein specialist's office, with no need to visit a hospital.
Plainview, NY (PRWEB) December 04, 2013
Advanced Vein Care Solutions announces the publication of a new article on their website explaining how to best take advantage of the latest vein disease treatments. According to the Plainview based Center, over 50 million Americans are dealing with unsightly varicose veins and spider veins. The center wants the public to know that modern vein disease treatments aren't anything like they used to be.
Dr. Andrew Rochman, a NY vein specialist, says, "All our procedures take about an hour to perform and involve making only tiny incisions on the surface of the skin, so they result in vastly improved aesthetics and better vascular health." He also says the center offers microphlebectomy, endovenous laser treatment (EVLT), and sclerotherapy, all on an outpatient basis in their comfortable Long Island offices.
The center's new article explains what causes varicose veins, and then outlines the steps patients can take at Advanced Vein Care Solutions to get rid of varicose veins. The center hopes that by providing this information, patients will better understand how to access and take advantage of the latest in vein disease treatment in Long Island. Interested readers can find more information on vein treatments on the center's website at http://www.yourveinsolution.com.
For more information, visit: http://www.yourveinsolution.com
Varicose Vein Treatment Options
Varicose veins and spider veins are a frequent concern among men and women in the United States, affecting nearly 50 percent of the adult population. Spider veins are tiny, web-like veins very near the surface of the skin and may appear red or purple in color. Varicose veins tend to be much larger, protrude from the skin, and have the appearance of a twisted rope. They are also bluer in color than spider veins. Both men and women can suffer from varicose veins, but women are more frequently affected.
Many effective options exist today to treat varicose veins. Advances in medicine and technology have brought treatments that are effective, fast, and require little to no recovery time. Modern procedures available are radiofrequency occlusion or ablation, phlebectomy, and endovenous laser ablation.
About Advanced Vein Care Solutions
Advanced Vein Care Solutions is the Plainview, New York region's foremost provider for vein care and vein disease. The vein treatment center is committed to providing patients with comprehensive, personalized health care for vein disease. Special areas of expertise include varicose veins, spider veins, and more complex circulatory conditions.
The center's vein specialists are highly skilled and experienced in diagnosing and treating the full range of vein disorders. Doctors at Advanced Vein Care Solutions realize the importance of staying on the leading edge of new research, technology and procedures. Under the direction of Dr. Andrew Rochman, the center sets the standard for venous disease care in Plainview, NY.
Advanced Vein Care Solutions
http://www.yourveinsolution.com
Tel. (516) 986-4770