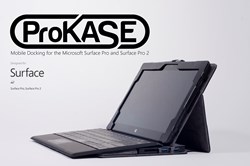 Devices to make life easy, more efficient, and fun
Los Angeles, CA (PRWEB) December 11, 2013
Announcing ProKASE, a Microsoft Surface Pro mobile dock for Microsoft's powerful new Windows 8.1 powered Surface Pro and Surface Pro 2 tablets. At its core, the ProKASE (http://pkase.com/) is a protective case for Surface users who need to take their tablet anywhere. The innovative case protects the tablet and extends its functionality. ProKASE includes an integrated three port USB 3.0 hub, and a full sized SD/CF card reader combo. It's "Designed for Surface Pro" certified, so it fits the tablet like a glove.
The ProKASE system includes three modular components: a protective frame that encloses the Surface Pro directly, a thin protective cover for use when the mobile dock is not needed, and a separate mobile dock cover with the integrated electronics. Protective covers can be easily interchanged and are secured to the frame using self-aligning magnets and Velcro. ProKASE is available both as a two-part thin "KASE" or three-part "ProKASE" system, weighing 10oz or 19oz respectively. Both systems are made from high quality polyurethane synthetic leather. Available color options are the same as Microsoft Touch and Type covers and include: black, cyan, and purple.
ProKASE production will be initiated through a crowd funding campaign on Indiegogo (http://igg.me/at/pkasepro) running through January 13th, 2014. KASE hopes to raise $11,000, which they will use to create the first shipment of ProKASE Microsoft Surface Pro mobile docks. The first 25 contributors to the campaign can purchase the complete three-part ProKASE system for $65; regular MSRP will be $70 thereafter. The two-part KASE system – protective frame and thin protective cover – will also be available at $30. 16 GB USB3.0 promotional flash drives will be offered at $20. Products will ship immediately after the campaign end-date. Customers can purchase the ProKASE system online after the campaign ends (http://pkase.com/).
The original ProKASE concept was conceived in February 2013, and a Kickstarter campaign quickly followed in March 2013. Although the campaign failed to reach the funding goal within the timeframe, it still proved vital. During the campaign, the inventors were active on forums and were grateful for the constructive criticism they used to reinvent ProKASE. By doing so, the developers took customer's wishes to heart and designed a case that extended Surface's functionality without extra cords, hubs, or clutter.
The ProKASE Microsoft Surface Pro Mobile Dock system is the first product "Designed for Surface Pro" by KASE, and the developers intend to create a full line of products Designed for Microsoft and Surface Pro.
About KASE
Key Add-on Systems Engineering, LLC – KASE for short – was formed in October 2013. KASE is a Los Angeles based group that strives for innovative ways to design, develop and produce devices to make life easier, more efficient, and fun. Their development processes is founded on a single core belief -- things people use should not look like they were designed by engineers. They should integrate into peoples' lives and be simple and easy to use. Furthermore, KASE developers believe "awesome concepts often arise when least expected. The best innovations can come from anyone and anywhere. Product development is not just for engineers."