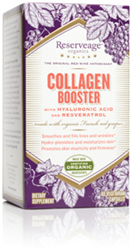 "The publication of the positive outcome in a peer-reviewed journal should be considered highly significant for the industry," said Joosang Park, PhD, vice president of scientific affairs at BioCell Technology. "It offers confidence to consumers in the US
Gainsville, FL (PRWEB) December 04, 2013
A University of Florida research study published on October 2, 2013 in the Natural Medicine Journal1 finds preliminary support that the dietary supplement, Collagen Booster™ by Reserveage™ Organics, which contains resveratrol and BioCell Collagen™, can reduce facial pore size and help improve a woman's satisfaction with her appearance.*
This open-label pilot study examined the effect of Collagen Booster on 29 healthy women ages 35 – 70 who reported dissatisfaction with signs of aging such as facial lines and wrinkles. The study evaluated whether interventions to reduce the appearance of aging in one's skin could help support self-esteem.*
Collagen Booster contains Reserveage Organics' patent-pending Pro-Longevity Resveratrol Blend™ and BioCell Collagen™, a triad of collagen protein, hyaluronic acid and chondroitin sulfate that has been clinically shown in an open-label study to provide important components for the skin's collagen. Each serving delivers 1,000 mg of BioCell Collagen™ and 100 mg of trans-resveratrol.*
The study participants each took a two-capsule serving of this oral supplement daily for six months and completed facial scans and self-assessments of their skin and body satisfaction at baseline, three months and six months.*
The facial analysis on participants revealed significant improvements in the percentage of facial pores from baseline to six months. The participants reported feeling improved satisfaction with their bodies and skin from baseline to six months.*
Participants measured their results on a self-reported Skin Satisfaction Scale, which assesses satisfaction with the following 10 areas: firmness, complexion, glow, pores, youthful appearance, fine lines, elasticity, wrinkles, smoothness, crow's feet, tone, and overall skin.*
Ninety-three percent of the participants self-reported positive effects on their skin, with 83 percent reporting positive changes such as softer skin and the diminished appearance of fine lines and wrinkles. Seventy-two percent reported an increase in their energy level and exercise.*
"The publication of the positive outcome in a peer-reviewed journal should be considered highly significant for the industry," said Joosang Park, PhD, vice president of scientific affairs at BioCell Technology. "It offers confidence to consumers in the US and other countries by providing scientific evidence for the claimed benefits of this unique combination of two well-researched ingredients."
Larger randomized, double-blind placebo studies are needed in order to substantiate what was observed in this open-label pilot study.
The Collagen Booster study also supports evidence that dietary bioactive antioxidant compounds such as polyphenols may have the potential to support both skin appearance and general health. Resveratrol is a polyphenol that has been researched extensively for its ability to help reduce oxidative stress, which can help protect the skin from environmental aging factors.*2
Collagen Booster by Reserveage Organics (60 count) is the number one-selling collagen product on the market.3
About Reserveage™ Organics
Inspired by the wisdom of nature and the healthiest cultures around the world, Reserveage Organics aims to provide high-quality, science-driven products that deliver life-changing benefits. We know nature is a powerful and abundant source, so we travel the world in search of our finest natural ingredients. The philosophy that inspires us to enhance the relationship between science and nature drives the formulations we create using scientifically researched ingredients with demonstrated results. We strive to provide our most advanced and innovative nutritional supplements that deliver of supporting optimal wellness. We are devoted to providing naturally sourced ingredients in authentic formulas.*
For more information about the Reserveage Organics complete line of nutritional supplements, call 800.553.1896 or visit http://www.reserveage.com
About BioCell Collagen™:
BioCell Collagen™ is a breakthrough scientifically-substantiated dietary ingredient that promotes active joints, youthful looking skin, and healthy connective tissues. Unlike other collagen and hyaluronic acid ingredients on the market, BioCell Collagen™ contains a patented composition of naturally occurring hydrolyzed collagen type II, chondroitin sulfate, and hyaluronic acid in a highly absorbable matrix form that has been the subject of numerous human clinical trials including safety, efficacy, and bioavailability. For more information on BioCell Collagen™, please visit http://www.biocellcollagen.com.
1http://www.naturalmedicinejournal.com/article_content.asp?edition=1&section=2&article=460
The researchers in the open label pilot study serve on Reserveage Organics' or a related entities' Scientific Advisory Board but they do not receive payments related to the sales of Collagen Booster.
2De la Lastra CA , Villegas I. Resveratrol as an antioxidant and pro-oxidant agent: mechanisms and clinical implications. Biochem Soc Trans. 2007;35(Pt 5):1156–1160.
3SPINSscan Natural 12 weeks, 24 weeks, and 52 weeks ending 08/31/2013)
*These statements have not been evaluated by the Food and Drug Administration. This product is not intended to diagnose, treat, cure or prevent any disease.