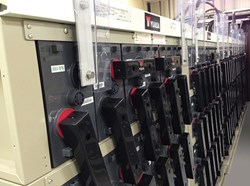 Everyone wants a 'green' data-centre operation. We guarantee to provide the most eco-friendly and secure power solution
Southend-on-Sea, Essex (PRWEB UK) 4 December 2013
EcoPowerSupplies provided an industry expert view in the latest Sunday Telegraph and Business Technology Efficient IT report. Titled 'The 21st Century Power Ranges' the reported covered a range of efficiency topics including power (energy storage and uninterruptible power supplies), cooling, design, management and system optimisation.
The piece by EcoPowerSupplies covered renewable power and high efficiency uninterruptible power supplies for datacentre and other critical power installations. It also featured a photo of one of the company's latest energy storage installations – a 3MW Yuasa battery system installed in the Shetlands.
In the report Nick Watkins, Managing Director of Thamesgate Group and co-founder of its EcoPowerSupplies division discussed the unprecedented challenges IT organisations face in terms of power security and renewable energy. He says: "Destabilisation of the National Grid, rising electricity costs, and the need to decarbonise electrical supplies are board-level issues driving IT-managers to review their power systems."
The growing number of renewable installations in the UK has lead to a far greater share of the electrical supply chain. Their rising system capacities also makes renewable power an attractive secondary power source for IT environments. On-site solar PV or wind turbine generated power can be stored for back-up usage or exported to the grid as part of an energy cost reduction exercise.
Working in this sector, EcoPowerSupplies provides a complete design and build service. Typical projects range from energy storage facilities for smart grid operators to solar PV systems using the latest lithium-ion technologies.
EcoPowerSupplies also works with leading high efficiency uninterruptible power supply manufacturers. These Eco UPS systems include modular systems using the latest 'pay as you grow' technologies, UPS suitable for decentralised (in-rack) or centralised deployment and models included on the Carbon Trust's Energy Technology List which claim enhanced capital tax relief.
"Traditionally, IT users only faced the problem of how to ride through a typical mains power failure. Today they face far wider concerns as virtualisation and cloud-based services drive the adoption of more complex IT systems, " adds commercial director Robin Koffler. "Everyone wants a 'green' data-centre operation. We guarantee to provide the most eco-friendly and secure power solution."
A digital copy of the report can be viewed at:
http://business-technology.co.uk/2013/12/design-and-build-service-for-renewable-installations/
For more information please contact:
Robin Loffler, 00 44 787 282 2909 or 0800 210 0088
marketing(at)ecopowersupplies(dot)com
Boilerplate Information
EcoPowerSupplies is the primary division through which the Thamesgate Group focuses its work within the fields of power protection, renewable power and energy management. The Group philosophy is to provide a unified engineering approach to clients across the UK and Eire, through specialist divisions. Each division is a standalone business, fully resourced to provide outstanding customer service and innovation, and tasked to become a leading organisation within its field. The division's cover: electrical contracting, power protection, renewable energy storage and manufacturing.
Thamesgate is based in Southend-on-Sea and provides a 24/7 service. Certifications include: ISO9001, ISO14001, SafeContractor, Chas, Acclaim, CSCS and NICEIC. Thamesgate is listed on Achilles and is a member of the British Institute of Facilities Management, Data Centre Alliance and Datacentre.me.
Nick founded Thamesgate in 2003, following several commercial project roles and a successful electrical engineering apprenticeship. Nick drives the business side of Thamesgate, always looking for new product and service ideas, whilst developing both customer and supplier relationships
Robin joined Thamesgate in 2013 to help the company strategically develop its Datacentre Power Protection and Renewable Energy services. Robin is CDCDP and CDCEP certified in datacentre design, operation and energy efficiency, and has an MBA in strategic management, a post graduate diploma in marketing and is a Fellow of the Chartered Institute of Marketing (FCIM). Previous roles for Robin include 10 years as the General Manager of Riello UPS Ltd, joint Managing Director at Advance Electronics Ltd and Marketing Manager for Galatrek International Ltd.