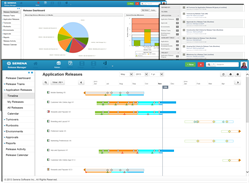 Serena Release Manager provides Gordmans with enterprise-class, develop-to-deploy release management and gives us the visibility, tracking and deployment automation capability we require.
San Mateo, California (PRWEB) December 04, 2013
Serena Software, the largest independent provider of Orchestrated Application Development and Release Management solutions, today announced significant new capabilities in Serena Release Manager that help enterprise IT organizations bring Dev and Ops together to increase the quality, speed and predictability of their software releases. Serena Release Manager v5 is the first and only enterprise release management solution that addresses the entire release lifecycle by bringing smart process management and automated application deployment together in a single product to manage DevOps processes across distributed, cloud, mobile and mainframe applications.
"Serena Release Manager is the only product that reduces the high cost of release management by enabling companies to streamline and control their release process, integrate and coordinate release teams and automate application deployments, all through a single product," said Greg Sikes, Vice President and Product Officer at Serena Software. "Serena Release Manager v5 sets a new high water mark of functionality for companies looking to solve the complexity of their release management processes."
While automating the deployment of releases is a necessary element of improving application delivery, Serena's customers report that standardizing the release process, automating the hand-offs among the teams and getting actionable insight into the release lifecycle are key to the substantial improvement in their ability to realize business value from their application development investments.
"Serena Release Manager provides Gordmans with enterprise-class, develop-to-deploy release management and gives us the visibility, tracking and deployment automation capability we require," said Derek Pecka, Retail Systems & Information Security Manager for Gordmans, a leading U.S. retailer with 90 department stores across 19 states.
Leading companies in banking, insurance, telecommunications, retail and healthcare, as well as innovative public sector agencies, face similar challenges orchestrating all the elements of a successful release. Serena Release Manager v5 addresses these challenges and more with comprehensive functionality covering the three major aspects of the process:

Visibility, control and standardization of the release process,
Coordination and collaboration for release teams, and
Automation of application deployments.
"Serena is one of a few software vendors we see with a coherent set of products that have been tightly integrated into a single solution," wrote Bola Rotibi in her just-released report, CIC Vendor Spotlight: Serena Release Manager. "The company also provides an increasing amount of out of the box integration to third party tools. This is important because it means that customers are able to deploy Serena inside their environment without having to pay for extensive professional services help."
Implementing a single solution with these capabilities enables organizations to dramatically improve operational efficiency, be considerably more responsive to their business customers and easily demonstrate compliance. Customers using Serena Release Manager report significant measurable benefits, including:
3x increase in the throughput of deployments
75% reduction in defects in production
3 hour product deployments trimmed to 35 minutes
50 weekends spent on-site for deployments halved to 25
Half of deployment team members time freed up for more value-added work
New Serena Release Manager v5 Capabilities
To help more organizations realize these benefits, Serena Release Manager v5 ships with completely new features and important enhancements, including:
Actionable Release Dashboards with out-of-the-box KPIs for insight into the entire release lifecycle, from initial request through to development, test and deployment across the path to production.
Best Practice Release Processes that streamline and accelerate the release lifecycle yet can be easily self-service tailored for each customer's needs.
Automated Turnovers based on standardized Runbooks to eliminate error-prone manual handoffs and deployments.
Virtual and physical Environment Management to improve availability and readiness of pre-production environments.
A Lifecycle Activity Feed that enables real-time communication and collaboration across the DevOps teams and provides a complete audit trail of all release tasks and approvals.
The Deployment Hub that provides bi-directional integration with Serena and third-party application release automation tools, allowing customers to invest in release process improvements while leveraging their existing automation investments.
Updated Serena Business Manager (SBM) and Serena Service Manager
Serena Software also announced the latest versions of Serena Business Manager (SBM), the customer-proven IT process automation platform that powers all Serena's orchestrated solutions, and Serena Service Manager, the company's IT service management solution. New features in SBM and Serena Service Manager include:
Redesigned and fresh User Interface for more intuitive interaction, faster end-user adoption and seamless access across browsers and mobile devices.
New Work Center provides a unified, centralized and simple workspace for stakeholders and users to intuitively view, track and act on their work items and issues while coordinating and collaborating with team members and stakeholders.
Completely updated Universal Search that allows users to find information across all their projects and applications with a single click, making them more efficient, productive and happy.
Availability, Live Demonstration and Additional Information
Serena Release Manager v5 and the latest versions of SBM and Serena Service Manager are generally available on December 16th and can be purchased directly from Serena Software or the company's network of partners worldwide.
A live demonstration of these products and Q&A with the product teams will take place on Tuesday, December 17th at 11 am ET, 8 am PT. To see the products in action and ask questions, register for the webcast at http://ser.so/srmv5live.
For more information now, including product collateral, videos and screenshots, visit http://ser.so/srmv5launch.
Tweet this: @SerenaSoftware delivers new DevOps automation, release collaboration and actionable insight with Release Manager v5. http://www.serena.com/rlm
Visit Serena's Press Center: http://ser.so/srm5launch
Read more about Serena Release Manager: http://www.serena.com/rlm?kf
Watch demos and videos on YouTube: http://www.youtube.com/serenasoftware
Follow Serena on Twitter: http://twitter.com/serenasoftware
Get Serena's monthly newsletter: http://info.serena.com/UNKN_Serena.com_serena-xpress-community-newsletter_LP.html?kf
About Serena Software
Serena Software provides orchestrated application development and release management solutions to the Global 2000. Our 2,500 active enterprise customers, including a majority of the Fortune 100, have made Serena the largest independent ALM vendor and the only one that orchestrates DevOps, the processes that bring together application development and operations.
Headquartered in Silicon Valley, Serena serves enterprise customers across the globe. Serena is a portfolio company of Silver Lake Partners, the leader in private investments in technology-enabled industries.
Media Contacts:
Paula Holland
Dunamis PR
+1 408 930 6437
paula(at)dunamispr(dot)com
Carl Landers
Serena Software
+1 650 481 3446
clanders(at)serena(dot)com