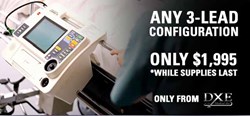 Brentwood, TN (PRWEB) December 04, 2013
DXE Medical, Inc., a leading distributor of new and recertified medical equipment, is offering greatly reduced pricing on recertified LifePak 12 and Zoll M-Series 3-lead manual defibrillators. While supplies last, these units will be available for only $1995.
This is over a 50% discount as LifePak 12s retail for more than $4000 while Zoll M-Series are usually sold for more than $5500. DXE currently has 398 of these recertified 3-lead manual defibrillators in-stock and expects these units to go quickly at this remarkable price.
Interested customers should call 866-349-4363 or e-mail sales(at)dxemed(dot)com to speak with a sales representative about this offer. DXE Medical also offers a full range of maintenance and repair services from their in-house biomedical department making the company an excellent choice for EMS services and healthcare companies needing reliable medical equipment and services.
DXE Medical, Inc. was founded in 1999. It provides new and refurbished defibrillators, AEDs, EKGs, as well as other medical equipment and has grown to serve customers in all 50 states and 40 countries worldwide. For more information, please visit: http://www.dxemed.com/.