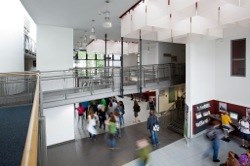 This combination of great resources and extensive networks all over Germany doesn't exist anywhere else. Plus, there are no middle men, no extra fees, no miscommunication between parties, no wasted time.
New York, NY (PRWEB) December 05, 2013
A new type of travel agency has a solution to one of the biggest dilemmas in skill-centered student trips abroad: How to get a high level of skill-centered student travel programs and great trip management from one source. Go2City develops unique interest-based educational programs, as well as arranging customized sight-seeing itineraries and accommodations at a great value.
There is no shortage of groups who want to travel to apply their skills in front of an audience at music, sports, theater or other performances, and there is no shortage of tour operators able to book only their travel details.
But finding the most important trip element – a suitable stage or stadium for the kids to perform – is usually up to the group leader – mostly language teachers who organize trips for their students, spending much unpaid time and even their own money in the process.
The new agency, Go2City, fills that gap and offers a true one-stop shop: Performance opportunities, accommodations, and all offsite activities. How? The agency utilizes its own performance venues and accommodations – cutting out the cost of middlemen.
Most surprisingly: the organization behind such a one-stop supermarket for student travel is a non-profit. German DJH – the German Youth Hostel Association – an organization with more than 500 youth hostels all over the country. Many of the hostels are unique facilities, such as converted castles and other historic or new buildings, which sometimes function as both youth hostel and public performance venue. American groups can participate in scheduled performances and events or stage their own. Similar options exist for sports travel, and one example is Sports Park Duisburg – a nearly 500-acre sports complex with more than 40 different sports and 30 local clubs, and a brand new, boutique-hotel-like DJH hostel right on the premises.
"We asked teachers how they choose itineraries for their student trips, and the answer is basically the same. They build the trips around their personal connections because traditional tour operators do not provide this type of planning service," says Rainer Perry, US Representative in New York City for DJH City Hostels, a chain of upscale youth hostels in Cologne and Düsseldorf. "To provide a truly great service, we realized it is not enough to just offer comfortable and affordable accommodations. We had to start with offering the personal and emotional connections."
Go2City-- DJH's in-house agency whose office is on the DJH premises, not only connects US student groups to local schools, music groups to choirs or churches, sports teams to clubs and competitions, theater groups to local stages and festivals, and so on; they also offer amazing hotel-quality accommodations at a fraction of hotel prices -- and provide a personalized sight-seeing and entertainment program.
"This combination of great resources and extensive networks all over Germany doesn't exist anywhere else," says Perry. "Plus, there are no middle men, no extra fees, no miscommunication between parties, no wasted time. The client tells us what their group wants to do, and we put the whole package together. Moreover, our NY office is available during US office hours."
DJH City Hostels invites teachers and tour operators to call on Go2City as a new amazing resource for all logistical aspects of their trips, so that they can focus on the thing that matters most: Preparing their students for the experience of a life-time.
For more information about Go2City, visit: http://www.djh-go2city.de.
For more information or a customized proposal, contact:
Rainer Perry - Marketing & Sales Manager North America
DJH City-Hostels in Bonn, Cologne & Düsseldorf
934 8th Avenue 2b; New York, NY 10019
phone: 212 957 6653
email: rainer.perry(at)djh-rheinland(dot)de
http://www.city-hostel.de
###
Featuring three hostels in Bonn, Cologne and one in Düsseldorf, DJH City-Hostels is part of the German Youth Hostel Association Rhineland, an association of 35 hostels. A non-profit organization, DJH City-Hostels is committed to providing superior budget accommodations in the cities of Bonn, Düsseldorf, Cologne, and the Rhineland region to individuals, groups, and families for business and leisure travel. For more information, visit: http://www.city-hostel.de.