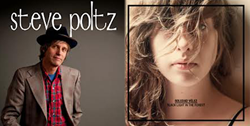 Los Angeles, CA (PRWEB) December 04, 2013
Southern California-based singer-songwriter Steve Poltz has teamed up with International recording artist Soledad Vélez to record a song Poltz originally penned and enjoyed chart success with 17 years prior with platinum-selling singer-songwriter Jewel. The original version reached number 2 on the Billboard Hot 100, as well as the number 1 spot on the Billboard Adult Contemporary Chart in 1997.
Poltz wrote the song with Jewel on a Mexican Beach while a drug bust was going on: "You never know when you're gonna go surfing with a girl and write a hit song."
The new single version features Poltz and Vélez and revisits the theme of moving on with life after a failed relationship. This version was produced by Grammy Award winner Chris Goldsmith (Charlie Musselwhite, Ruthie Foster, Blind Boys of Alabama) and Gabe Lehner (9Theory). The two producers were able to get a mix of down-tempo electronic vibe to this track.
Poltz was born in Halifax, Nova Scotia Canada, but has spent most of his life in Southern California. He fronted the late 80's/early 90's indie rock outfit The Rugburns and then went on to record several solo albums over a long and fruitful career. His songs have appeared on TV and films and he is known as a strong acoustic solo act having toured throughout the world.
Vélez (From Valencia, Spain) has had success internationally for several years, having released several CDs on Absolute Beginners Records. Her recent release "Run with Wolves" is just starting to gain traction in the U.S. Vélez is planning a limited tour in the U.S. beginning in February, 2014 and will appear at South by Southwest.
Poltz collaborated with Vélez via the Internet and marveled at her voice and "Can't wait to finally meet her to hear that beautiful voice in person. When I see her I'm gonna give her a hug, smile and a high five for a job well done," Poltz said.
"We are so thrilled to have the opportunity to release this unique version of this iconic song blending Soledad's lush and vibrant vocals with Steve's introspective harmonies along with an amazing alternative acoustic arrangement. This takes this beautiful to new heights" added Jonathan Platt, from Global Disc Records and J-2 Music.
Please visit: http://www.j-2music.net for more information on "You Were Meant For Me" single.
Please visit Itunes: https://itunes.apple.com/us/album/you-were-meant-for-me-feat./id771316898
Press Contact: Joshua Capiga at J-2 Music Joshua.capiga@gmail.com