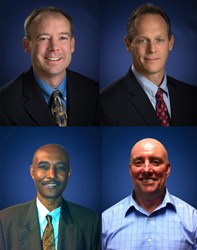 I am extremely excited to be part of the Annese family knowing the history, culture, and reputation that the organization carries in the technology marketplace.
Clifton Park, NY (PRWEB) December 05, 2013
Annese & Associates, Inc. is continuing to invest in its Data Center Virtualization practice and welcomes two new Solutions Architects, Bob Winters and Bob Drouin; and two Systems Engineers, Mark Dingee and Mohamed Issa, to the team. They will each report to Tom Gdula, Practice Manager.
Bob Winters and Mohamed Issa are located in Annese's Clifton Park office, while Mark Dingee and Bob Drouin are based in the company's Brewster location.
BOB WINTERS
Bob Winters (pictured top left) was most recently employed with GSS Infotech as a Solutions Design Manager. He has his Bachelor of Science Degree in Business Administration from SUNY Albany.
"Bob Winters joined our Data Center Virtualization Practice providing pre-sales consultation and solutions design recommendations to our customers in the East. Bob brings a deep swath of industry experience spent designing, implementing, and supporting Data Center grade server, storage, and virtualized workload infrastructures. Bob's insight has had an immediate and positive impact on our customer's strategic plans in the East and Metro regions," said Tom Gdula.
MARK DINGEE
For the past 14 years, Mark Dingee (pictured top right) was the Technical Lead at Cartus. Prior to this he was a Senior Engineer at Jackson Lewis and a Windows NT Systems Engineer and VMS Systems Manager at Reuters. Mark is a graduate of Pace University in New York City, with a Bachelor of Science Degree in Computer Science and a minor in Math.
"I am thrilled to join Annese and the Data Center Virtualization team. I am looking forward to combining my 27 years of IT experience with an exceptional team to build our virtualization practice over the coming years. These are exciting times and I believe Annese has the right plan and the brightest people to take this company to the next level," said Mark.
"Mark is a highly experienced engineer with critical knowledge gained through implementation and support of various VMware infrastructures, disparate storage platforms, Data Center networking, Active Directory, and Windows Server configurations. Mark's teamwork, talent, and sound approach make him a solid partner for our customers in the Metro region," said Tom Gdula.
MOHAMED ISSA
Mohamed Issa (pictured bottom left) has been an IT Engineer for over 16 years. His most recent position was working with the United Nation Peace Keeping Mission in Darfur, Sudan as a VMware Virtualization Engineer. Prior to this role, Mohamed was CITS IT Supervisor for Sector North—Zamzam for the United Nations in Sudan, and a Network Operation Centre Senior Specialist with CGI in Ottawa, Canada. Mohamed has a Bachelor Degree in Geological and Mining Engineering at The University of Sciences and Technology Houari Boumediene.
"After serving over five years with the UN Peace Keeping Mission in Darfur, I'm so excited to be back and to be part of Annese's success story in the moving sand of today's technology," said Mohamed.
"Mohamed's formidable international virtualization expertise has most recently brought him home from a UN assignment in Darfur, Sudan where he successfully designed, implemented, and supported highly available infrastructures for virtual sever, desktop, and application workloads. In addition to further expanding on the team's Microsoft skills, Mohamed also adds his Linuz and Unix operations knowledge to the practice," said Tom Gdula.
BOB DROUIN
Bob Drouin (pictured bottom right) graduated from Nova Southeastern University in Fort Lauderdale, Florida with a Master of Science in Information Systems and a Bachelor of Science in Professional Management. Most recently, Bob was employed with IBM Smartcloud Enterprise+ as a SAN Storage Engineer. He has also worked at Citigroup, Computer Science Corporation, and Concurrent Computer Corporation.
"During my interview process with Annese, it became clear to me how much the company cares about its employees. Annese gets it. After working for very large IT organizations, I can really appreciate that," said Bob.
"Bob's real-world hands-on implementation experience serves him well in the pre-sales Solutions Architect role. He brings with him significant knowledge in operating system requirements, storage infrastructure design, and networking configuration for daily operations and disaster recovery considerations," said Tom Gdula.
About Annese & Associates, Inc.
Expertise. Relationships. Innovation. Throughout the past four decades, these principles have established the foundation upon which Annese & Associates has emerged as the trusted adviser to our customers, partners, and communities. With a full-circle approach to integrating communications systems, Annese wraps professional and managed services around Infrastructure, Collaboration and Data Center Virtualization solutions. Guided by our services methodology, we design an end-to-end IT experience for our clients, implementing the tools of today and administering a plan for tomorrow. Our business is the art, science, and passion of connecting devices to networks, people to people, and ideas to action.
– ### –