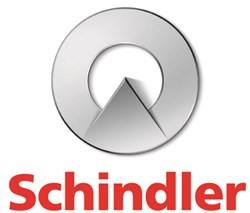 We are incredibly honored to be recognized among such a worthy group of innovators with this prestigious nomination.
Morristown, NJ (PRWEB) December 05, 2013
Schindler has been named a finalist in the Platts Global Energy Awards, an annual program recognizing exemplary industry leadership. The 2013 finalists, selected from more than 200 nominations, were announced by program host Platts, the leading global energy, petrochemicals and metals information provider.
"We congratulate this year's finalist individuals and companies, and we look forward to honoring their accomplishments when we unveil the 2013 Global Energy Award winners this month at our 15th annual awards dinner," said Platts President Larry Neal.
The Schindler Solar Elevator, nominated for the "Leading Technologies – Sustainable Innovations" award, is the world's most advanced, affordable, solar-powered elevator system, a trailblazing technology that underscores the company's dedication to developing innovative, sustainable solutions for urban mobility challenges.
Inspired in large part by its partnership with the revolutionary Solar Impulse project, the zero fuel airplane aiming to fly around the world propelled only by solar energy, the Schindler Solar Elevator is a hybrid system designed to supply from up to 100 percent of the elevator's power needs from rooftop solar panels and a proprietary Hybrid Power Manager (HPM) that stores the solar energy in batteries until needed.
"We are incredibly honored to be recognized among such a worthy group of innovators with this prestigious nomination," said Greg Ergenbright, president, Schindler Elevator Corporation. "The Schindler Solar Elevator is a major step forward in creating net-zero energy buildings in urban environments, and a symbol of Schindler's steadfast commitment to continuously set new standards for the efficiency, safety and sustainability of our groundbreaking mobility solutions."
Established in 1999 and often described as "the Oscars" of the energy industry, the Platts Global Energy Awards highlight corporate and individual innovation, leadership and performance excellence in 18 categories spanning the energy complex.
Hundreds of energy industry representatives are expected to attend the 2013 Global Energy Awards black-tie dinner gala in New York City on December 12. The awards program will be emceed by CNBC News Anchor Amanda Drury for a fourth consecutive year.
Preceding the awards event will be the Platts Global Energy Outlook Forum – "Bridging the U.S. Boom: Global Markets Prepare" – which features a keynote speaker and panel debates by energy executives, government officials and industry leaders.
About Schindler
Schindler Elevator Corporation is the North American operation of the Switzerland-based Schindler Group, a leading global mobility provider with approximately 47,000 employees operating in more than 100 countries. Schindler supports sustainable urban development with safe, reliable and ecologically sound mobility solutions and its equipment moves one billion people every day all over the world. From 2011-2013, Schindler was named one of Forbes Magazine's 100 Most Innovative Companies, and three of the company's products received the Architectural Products' Product Innovation Award. For additional information about Schindler Elevator Corporation, visit the company's Web site at http://www.us.schindler.com.
About Platts
Founded in 1909, Platts is a leading global provider of energy, petrochemicals, metals and agriculture information and a premier source of benchmark prices for the physical and futures markets. Platts' news, pricing, analytics, commentary and conferences help customers make better-informed trading and business decisions and help the markets operate with greater transparency and efficiency. Customers in more than 150 countries benefit from Platts' coverage of the biofuels, carbon emissions, coal, electricity, oil, natural gas, metals, nuclear power, petrochemical, shipping and sugar markets. A division of McGraw Hill Financial (NYSE: MHFI), Platts is headquartered in New York with approximately 900 employees in more than 15 offices worldwide. Additional information is available at http://www.platts.com.