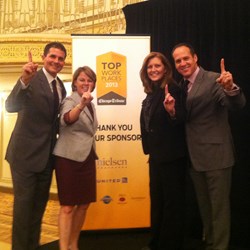 Oak Brook, IL (PRWEB) December 04, 2013
Athletico Physical Therapy is very proud to announce that it has been selected The Chicago Tribune Top Workplace for 2013, ranking #1 in the large company category. Genuine core values, opportunities for career advancement, and a positive work environment are just some of the attributes employees noted that put Athletico Physical Therapy at the top of the list.
The Top Workplaces are determined based solely on employee feedback. The employee survey is conducted by WorkplaceDynamics, LLP, a leading research firm on organizational health and employee engagement. WorkplaceDynamics conducts regional Top Workplaces programs with 37 major publishing partners and recognizes a list of 150 National Top Workplaces. Over the past year, more than 5,000 organizations and 1 in every 88 employees in the U.S. have turned to WorkplaceDynamics to better understand what's on the minds of their employees.
"Our success is the direct result of our employees' abilities to extend Athletico's core values beyond our daily responsibilities," said Mark Kaufman, Athletico founder and President and Olds, Iowa native. "I am honored to work with our great team who push, assist, and advance our culture and work environment on a daily basis. Athletico has a long runway, and I believe we can only get better from here."
In 1991, University of Iowa graduate, Mark Kaufman, opened the first Athletico center in Chicago. As a licensed physical therapist and certified athletic trainer, Mark opened the first center with one employee and provided services to two affiliations—Francis W. Parker High School and Chicago Lions Rugby. Athletico has since grown to 1,300 employees, over 200 affiliates, and 70+ facilities throughout Illinois, Wisconsin, and Indiana, with the newest facility opening in the Quad Cities-area of Silvis, Illinois on December 2, 2013.
In addition to the overall winners, the Chicago Tribune also recognized companies that scored highly on employee responses to certain survey statements. Athletico was selected as a Special Award winner in the "Training" category based on standout scores in employee responses to the survey statement, "I get the formal training I want for my career."
The Chicago Tribune published the complete list of Top Workplaces on Tuesday, November 12th. For more information on this year's Top Workplace in the large company category, visit http://www.athletico.com.