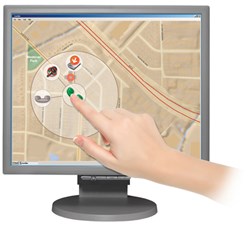 Guardian Map adds a new level of accuracy and speed to call handling in a next generation 9-1-1 environment.
Chicago, IL (PRWEB) December 09, 2013
Solacom Technologies, a leading NG9-1-1 solutions developer, announced that it has partnered with GeoComm Inc. to create Guardian Map, a best in class mapping solution that integrates seamlessly with the Guardian platform and enables 9-1-1 call takers to answer and manage calls directly from their Guardian Intelligent Workstation.
Guardian Map uses Automatic Location Identification information received with legacy 9-1-1 calls, or from caller location data in the newer i3 architecture defined by the National Emergency Number Association, to clearly indicate the location of 9-1-1 calls on a map.
Emergency call takers can also quickly identify the status of calls according to icons for ringing, active or released calls, and other icons for muted, on hold or abandoned calls. Call takers can control the calls using a keyboard and mouse, or directly from a touch screen monitor if so equipped.
The new application offers flexible map support for locally-hosed maps created from client supplied data and custom Geographic Information Systems (GIS) basemaps. In addition, Guardian Map supports free Esri ArcGIS OnlineTM basemaps and Streetmap PremiumTM.
"Guardian Map adds a new level of accuracy and speed to call handling in a next generation 9-1-1 environment," said Ray Vilis, vice president of Business Development at Solacom. "We look forward to enhancing Guardian Map even further with additional map-based call processing tools such as identifying the type of call to differentiate between text-based 9-1-1 calls and voice calls," added Vilis.
About Solacom
Solacom Technologies builds some of the world's most reliable critical communications systems for public safety 9-1-1, security and other mission critical applications. Solacom private cloud solutions integrate all elements of next generation 9-1-1 to provide virtual public safety answering point consolidation, virtual call taking positions, and advanced NG9-1-1 features. With a legacy of more than 30 years of innovation in public safety and air traffic control, our engineers continue to pioneer advances in critical communications. For more information, visit http://www.solacom.com.