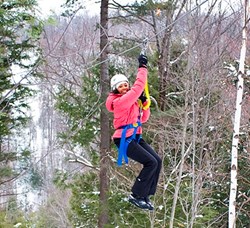 With an abundance of snow for great winter adventures, the BaseCamp of the White Mountains offers the best vacation experience in the Northeast. Off the slopes, enjoy great dining, entertainment and activities for the whole family.
Lincoln Woodstock, New Hampshire (PRWEB) December 13, 2013
Once upon a time, in a land not so far from here, there lived a family, very much like your own. They worked hard each and every day and loved each other very much. The family was very busy with sports, dance classes, theater practice, and meeting after meeting. As winter approached, and the days grew darker and colder, the family knew that as wonderful as their life was, there was something missing. They needed an adventure. But where could a family find such an adventure in winter? A little bird (and a Google search) told them that the adventure they sought would be in the Western White Mountains of New Hampshire, in the towns of Lincoln and Woodstock. So the family braved the cold and drove up to where their story really unfolds.
While their adventure may not have included dragons, fairies, or castles (well, maybe an Ice Castle), they truly had a getaway adventure that they will not soon forget. The End.
The Western White Mountains is known for its amazing skiing, but it is also the destination for other fantastic winter activities just waiting for adventurous families. For a free vacation planning guide, or a look at the events calendar, head on over to the Lincoln Woodstock Chamber of Commerce website: http://www.lincolnwoodstock.com. For more information, call 603-745-6621.