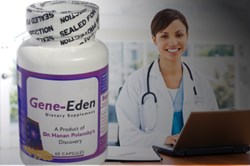 We recommend that individuals take Gene-Eden-VIR, a herpes remedy that was clinically proven to reduce herpes symptoms. – Mike Evans, polyDNA
Rochester, NY (PRWEB) December 07, 2013
The herpes virus (HSV-1) can scar the eye (1). During an infection, the virus can attack different parts of the eye, such as the cornea and the iris. The virus doesn't just take up residence in the eye, it causes inflammation and damage. "Ocular herpes simplex virus 1 (HSV-1) infection can lead to multiple complications…," according to a study published in April, 2013 in the Journal of Virology (2).
Some of these complications depend on the part of the eye attacked by the virus. "If the top (superficial) layer of the cornea is affected (it causes a condition called) epithelial keratitis. If the deeper layer of the cornea is affected (it causes a condition called) stromal keratitis, which can result in corneal scarring and loss of vision," according to an article last updated on September 28, 2011 on the Patient.co.uk website (3). The virus can also harm the iris, which is the colored part of the eye. When this happens it causes a condition called iritis. That is, an inflammation of the iris (2).
The symptoms of a herpes eye infection can include: redness of the eye - mainly around the cornea, ache or pain in the eye, photophobia (discomfort when opening the eyes in bright light), watering of the eye, and blurring of vision. There may also be a blistery skin rash around the eyelids (but not in all cases). The end result of these conditions can be pain, scarring, and even blindness (3).
Because "The National Eye Institute (NEI) says an estimated 400,000 Americans have experienced some form of ocular herpes, with close to 50,000 new and recurring cases occurring each year (1)," polyDNA recommends seeing an eye doctor when an individual experiences symptoms. In addition, people with a herpes infection should take Gene-Eden-VIR to help their immune system target the latent HSV.
"The bottom line is that severe and recurrent herpes simplex eye infections may lead to serious scarring, impaired vision, and even blindness in some cases. If blindness does develop, a corneal transplant may be the only option to restore vision. Thus, we recommend that individuals take Gene-Eden-VIR, a herpes remedy that was clinically proven to reduce herpes symptoms." – Mike Evans, polyDNA
In a post marketing clinical study published on August 12, 2013 in the medical journal Pharmacology & Pharmacy in a special edition on Advances in Antiviral Drugs, researchers showed that Gene-Eden-VIR is safe and effective (4). Additionally, up to 70% of those studied reported a decrease in herpes symptoms, and users experienced an increase in overall health (4).
Each ingredient of Gene-Eden-VIR was chosen through a scientific approach. Scientists scanned thousands of scientific and medical papers published in various medical and scientific journals around the world to identify the safest, most effective natural ingredients that target the latent form of the herpes virus. (4)
To learn more about Gene-Eden-VIR, and herpes visit http://gene-eden-kill-virus.com/Herpes-Remedy.php. All orders of Gene-Eden-VIR are completely confidential, and no information is shared or sold to any third party. Privacy is assured.
Reference:
(1) Eye Herpes (Ocular Herpes). Last updated on August 13, 2013.
http://www.allaboutvision.com/conditions/ocular-herpes.htm
(2) Susceptibility of Human Iris Stromal Cells to Herpes Simplex Virus 1 Entry. Published in April 2013.
http://www.ncbi.nlm.nih.gov/pmc/articles/PMC3624200/
(3) Herpes Simplex Eye Infection. Published on September 28, 2011.
http://www.patient.co.uk/health/Herpes-Simplex-Eye-Infection.htm
(4) Gene-Eden-VIR Is Antiviral: Results of a Post Marketing Clinical Study. Published on August 12, 2013. http://gene-eden-kill-virus.com/PP_Gene-Eden-VIR-is-Antiviral.pdf
polyDNA is a biotechnology company that develops dietary supplements using the unique scientific method developed by Dr. Hanan Polansky, which is based on Computer Intuition.
In addition to his unique scientific method, Dr. Polansky published the highly acclaimed scientific discovery, called Microcompetition with Foreign DNA. The discovery explains how foreign DNA fragments, and specifically, DNA of latent viruses, cause most major diseases.
polyDNA developed Gene-Eden-VIR , an antiviral natural remedy that helps the immune system kill latent viruses.