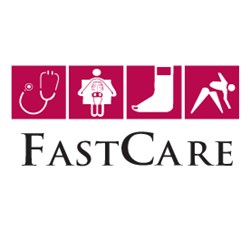 (PRWEB) December 10, 2013
Strep throat is a short-term, bacterial infectious disease common in people between 5 and 40 and many people get it often. While typically it is not life-threatening (unless another condition is suppressing an individual's immune system), the disease can be painful and take a child out of school or an adult out of work. However, an expensive and lengthy visit to a hospital or a doctor's office to test and receive treatment for strep throat isn't always necessary - strep throat is a condition that emergency medical clinics which provide urgent care, such as FastCare in South Florida, treats on a walk-in basis and is typically affordable if compared to a hospital or doctor's office visit.
FastCare, a South Florida urgent care provider, announced today that its state-of-the-art facilities will provide new and improved care for streptococcus and similar diseases. The Miami walk in clinic provides some of the best care available to strep throat patients, and accepts Medicare policies. If patients don't have insurance, FastCare assures that their prices are much lower than those in a hospital emergency room.
Streptococcus pharyngitis, otherwise colloquially known as strep throat, is a disease that affects the tonsils and sometimes the larynx, and is characterized by white, yellow, or red spots on the tonsils or back of the throat. Strep typically doesn't attack the respiratory system, so a cough, stuffy nose or sinus inflammation may actually be just a cold that includes a sore throat. Strep usually manifests as a persistent and severe sore throat with a fever over 100.0 °F, and is sometimes accompanied by nausea. Colds, though, are also treated at FastCare.
While it is not common in the Western world, strep throat, if untreated, can cause Rheumatic Fever, a serious disease that can affect the heart, joints, and skin. It most commonly affects people between the ages of 5 and 15 and is dangerous to the heart and kidneys.
Miami urgent care centers do not provide surgery, nor do they treat life-threatening emergency conditions. Conditions like this often require highly specialized surgeons to perform them, or they involve life-threatening conditions that need a larger facility to handle. That said, urgent care is effective, safe, and affordable for minor injuries and sicknesses, such as flu, nausea/vomiting, colds, strep throat, pink eye, allergies, infections, and upper respiratory disease, according to FastCare's website.
Anyone over the age of 5, regardless of their insurance status, can get service from one of FastCare's locations, which are open 365 days a year, immediately without an appointment. They'll be serveded by doctors from Miami Beach or Aventura. If a patient doesn't have insurance, the costs average around one-fifth of visiting a hospital.
While an appointment isn't required, filling out a Quick Appointment form can guarantee faster service at any FastCare clinic.
Contact FastCare at 786-923-4000 or email at info(at)myfastcare(dot)com, or visit their website at http://www.myfastcare.com/.