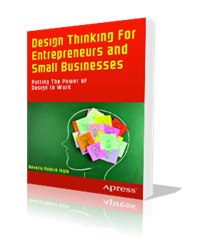 "She has an amazingly refreshing ability to create deep understanding within her audience, and a hands-on, practical approach ensures that the results are manageable and within your grasp." — Jill Robb, CEO of Ambition Digital in Belfast, United Kingdom
New York, NY (PRWEB) December 05, 2013
Design thinking began as a tactic for solving business problems and identifying opportunities. It initially catered to companies with big budgets. Now, design thinking expert Beverly Ingle is sharing her knowledge and experience with entrepreneurs and small-business owners in her new book, "Design Thinking for Entrepreneurs and Small Businesses: Putting the Power of Design to Work," —released by Apress Media. She illustrates how these smaller companies can make design thinking work for them—and on a much smaller budget. Ingle provides the tools entrepreneurs need with step-by-step processes that show how to use design thinking methods to transform a business and drive organizational success.
Readers will learn how to find and implement business goals using design thinking, what areas of business the approach is best used for, and how to incorporate design thinking into everyday operations, among other insight. Popular and prevalent design thinking tools like ideation, prototyping, and rapid branding are all thoroughly explained. Ingle provides practical, proven, hands-on examples that can be put to use right away. Not only will small business leaders and entrepreneurs leave the experience of this book with a working knowledge of design thinking, but they will also have the confidence to execute these improvements immediately. The best part is that the results will show in top and bottom lines in a positive way. According to one of Ingle's colleagues, Jill Robb, CEO of Ambition Digital in Belfast, United Kingdom, Beverly " has already helped many business people, myself included, inject greater creativity into problem solving to deliver better results. She has an amazingly refreshing ability to create deep understanding within her audience, and a hands-on, practical approach ensures that the results are manageable and within your grasp."
This book is geared towards entrepreneurs and small business owners, along with their senior leadership teams who need a better understanding of what design thinking is and how to implement it. In Ingle's own words, "My book is more like a 'how-to' for entrepreneurs and small businesses, who generally can't afford to hire agencies and large consulting firms to help them. My book is design thinking for the Average Joe Businessman."
For more information on "Design Thinking for Entrepreneurs and Small Businesses," please visit: http://www.apress.com/9781430261810.

ISBN: 978-1-4302-6181-0
172 pages
User Level: Beginner to Advanced
Publication Date: November 4th, 2013
Available eBook Formats : EPUB, MOBI, PDF
Print Book Price : $29.99
eBook Price: $20.99
About the Author
Beverly Ingle founded Resilient By Design, a design strategy and innovation management consultancy based in San Antonio, Texas, where she works with clients from a variety of industries. She is passionate about developing strong brands that resonate with local consumers as a means to helping entrepreneurs and local economies succeed. A Fellow among the inaugural cohort of the Leading by Design Fellows Program of the California College of the Arts, Beverly has used the skills she's learned to help companies grow and become more profitable anchors in their local communities.
About Apress Media
With more than 1,500 books in print and e-formats, Apress is the authoritative source for IT professionals, software developers, and business leaders all over the world. Apress provides high-quality, no-fluff content that helps serious technology professionals build a comprehensive pathway to career success. Since 2007, Apress has been part of Springer Science+Business Media, one of the world's leading scientific, technical, and medical publishing houses, enabling global distribution of Apress publications. For more information, please visit http://www.apress.com.