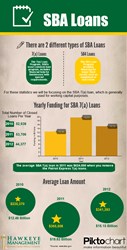 Blackwood, NJ (PRWEB) December 18, 2013
One of the most commonly asked questions small business owners ask is "what are the most common mistakes that small business owners make when looking for financing?"
According to statistics compiled by Clate Mask about small business owners, Mask talks about in detail for Small Business Trends: 83% are Solopreneurs (1-2 people) & bring in less than $100,000 a year in annual revenue. 6.1% make between $100,000 - $300,000 in annual revenue. 6.8% make between $300,000 - $1 million in annual revenue. So what are the 2 most common financing mistakes small business owners make?
Mistake #1 – Not knowing your business financing options
Small business owner's can't know what to do or the best course of action unless the owner knows what the options are. Most small business owners who haven't been in business for several years think that there are options that simply don't exist.
Mistake #2 – Not treating your credit as an asset
Utilization is a big issue because credit cards are so vital to small business owners - and especially the "Solopreneurs" out there. There is a right way and there's a wrong way to go about using credit cards.
To read the full findings click to read the report.
Hawkeye Management connects entrepreneurs and small business owners with up to $50,000-$150,000 or more in freely spendable business credit lines. Hawkeye Management understands the mechanics and realities of small business credit better than anyone. Hawkeye Management knows what works, what doesn't work, and how small businesses can get the credit it needs as quickly as possible.