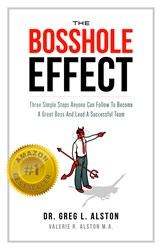 Leadership requires three important skills, the ability to Coach, Command and Create.
Charlotte, NC (PRWEB) December 11, 2013
Leadership and management is critical to the success of any organization. 75% of workers report that dealing with their immediate supervisor is the most stressful part of their job according to the Gallup Business Journal.
An article, "Many employees would fire their boss," appeared in October 2007. The research indicated that 24% would fire their boss if given the chance. 56% are disengaged and sleepwalking through work on any given day, and 18% actively undermine their team's effort.
Thus, bad bosses or Bossholes are a significant drain on the gross domestic product of the nation and a big reason why many people hate their jobs. Best Selling author Dr. Alston suggests that the challenge of correcting this problem is two-fold: 1) Do not tolerate Bosshole behavior in supervisors. 2) Do not act like a Bosshole yourself. This requires people to know what the attributes of a good boss are compared to a bad one.
In The Bosshole Effect, Dr. Alston draws on 35 years of experience in corporate America, business ownership, and academic leadership to provide a compelling and comprehensive guide for people who want to become better leaders.
Each chapter outlines three steps for readers to follow in their daily actions that will cause them to act like a good boss. The steps are explained so that anyone can understand them and real examples are used to describe how they work in real life. Dr Alston believes that " Leadership is not a personality trait, it is a way of acting."
Author Brief Biography
Greg L. Alston is an Associate Professor of Pharmacy Management and Assistant Dean at Wingate University School of Pharmacy in North Carolina. He has a unique resume of management success. He graduated cum laude with a Doctor of Pharmacy degree from the University of the Pacific while simultaneously becoming a credentialed K-12 teacher through the School of Education.
Management Experience
During his years in the chain drug industry he was the first in his graduating class promoted to pharmacy manager, and was the first pharmacist to become corporate training manager, marketing manager and general category manager on the buying staff for Sav-on Drugs. He went on to become a Regional Pharmacy Manager for Thrifty Drugs and the California Regional Pharmacy Manager for Smith's Food and Drug. After 15 years in the chain drug industry he founded and operated Draculas Castle Halloween shops and Best Pharmacy and Medical Supply in Southern California.
National Award
After selling the healthcare businesses in 2007 he "retired" to an academic career and within 18 months earned the National Award for Excellence in Assessment from the American Association of Colleges of Pharmacy in 2009. He currently teaches Pharmacy Management and Communications Skills courses and frequently consults with corporate clients and individual pharmacists looking to solve their most perplexing problems earning the nickname of "The Boss Whisperer."
He is also President of GLA Consulting Inc.
GLA Consulting Inc. is based in Charlotte, North Carolina and provides Professional Leadership and Management Training. Dr. Alston has spoken at numerous national conferences and is the originator of the Relative Value Theorem a simple approach to creating value in the marketplace. The Bosshole Effect is the first publication in the Leadership and Management Simplified Series.