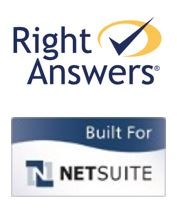 We're happy to take our integration with NetSuite to the next level, so our mutual customers can benefit from frictionless connectivity between NetSuite and RightAnswers.
Edison, New Jersey (PRWEB) December 09, 2013
RightAnswers, Inc., a leading provider of cloud-based knowledge management and self-service solutions, today announced that its RightAnswers SuiteApp has achieved 'Built for NetSuite' verification. The SuiteApp, built using NetSuite's SuiteCloud Computing Platform, integrates RightAnswers Unified Knowledge Platform and NetSuite to bring a powerful combination of CRM and knowledge management, offering a more complete solution that improves customer service by allowing customers to get correct answers to their questions more quickly and easily through web-based self-service.
Built for NetSuite is a program for NetSuite SuiteCloud Developer Network (SDN) partners that provides them with information, resources and a method to verify that their applications and integrations, built using the NetSuite SuiteCloud Computing Platform, meet the latest NetSuite standards and best practices. The Built for NetSuite program is designed to give NetSuite customers additional confidence that SuiteApps have been built to meet these standards.
RightAnswers Unified Knowledge Platform delivers up-to-date, relevant content from across the organization, empowering agents to provide a remarkable customer experience. It ensures that questions are answered correctly, quickly and consistently. The platform optimizes support for companies with a diverse customer base and complex products and services. The new RightAnswers SuiteApp enables agents to quickly find the knowledge they're looking for right from their CRM interface, providing a consistent work environment and a much easier learning curve.
"We're happy to take our integration with NetSuite to the next level, so our mutual customers can benefit from frictionless connectivity between NetSuite and the RightAnswers knowledge management system," said Bill Pollie, Executive Vice President, Sales and Business Development, RightAnswers. "Since our platform is cloud-based, companies can implement knowledge management across their business to shore up their support operations and transform the experience they provide their clients, without investing in infrastructure or system maintenance. Our Client Success team looks forward to working with NetSuite customers on an ongoing basis to implement knowledge best practices, drive adoption and ensure ongoing knowledge management success."
Request our webinar, "Moving Knowledge Management into your NetSuite Environment," and visit our web page for more information about integrating RightAnswers with NetSuite.
About RightAnswers
RightAnswers is the #1 provider of cloud-based knowledge management and web self-service solutions for optimizing customer service and IT support. Our 500 clients around the globe use RightAnswers seamlessly integrated with their CRM, ITSM or other customer service software, to provide stellar support experiences while saving millions of dollars a year. For more information, visit http://www.rightanswers.com.
About SuiteCloud
NetSuite's SuiteCloud is a comprehensive offering of cloud-based products, development tools and services designed to help customers and commercial software developers take advantage of the significant economic benefits of cloud computing. Based on NetSuite, the industry's leading provider of cloud-based financials / ERP software suites, SuiteCloud enables customers to run their core business operations in the cloud, and software developers to target new markets quickly with newly-created mission-critical applications built on top of mature and proven business processes. The complete SuiteCloud offering includes NetSuite's multi-tenant, always-on SaaS infrastructure; the NetSuite Business Suite of applications (Accounting/ERP, CRM and Ecommerce); and the NS-BOS Development Platform.
The SuiteCloud Developer Network (SDN) is a comprehensive developer program for Independent Software Vendors (ISVs) who build apps for SuiteCloud. All available SuiteApps are listed on SuiteApp.com, a single-source online marketplace where NetSuite customers can find applications to meet specific business process or industry-specific needs. For more information on SuiteCloud and the SDN program, please visit: http://www.netsuite.com/developers.
Note: NetSuite, the NetSuite logo, SuiteBundler, SuiteCloud, Suitelets and SuiteScript are service-marks or trademarks of NetSuite Inc.