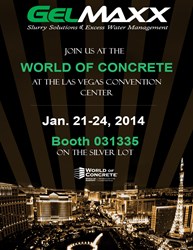 Coming into last year's show, Gelmaxx only had 6 distribution locations, but they are now sold in 20 locations worldwide
Santee, CA (PRWEB) December 10, 2013
As the World of Concrete 2014 (WOC) quickly approaches, Gelmaxx is gearing up for the major convention with exciting new developments and a much larger distribution network. The event celebrates its 40th anniversary that takes place on January 21-24, 2014 in Las Vegas, Nevada. WOC is a high energy, packed trade show that brings in suppliers, vendors, manufacturers, and contractors from all over the world that deal with different facets of the concrete industry. 2014 marks the second year that Gelmaxx will exhibit at the trade show at booth #031335 on the outdoor silver lot.
Gelmaxx has evolved immensely over the past year since their international debut. Coming into last year's show, they only had 6 locations that distributed Gelmaxx products. However, Gelmaxx is now sold in 20 locations worldwide. The 14 new distributors come from various states in the US and 3 Canadian territories of British Columbia, Alberta, and Québec.
As the company has evolved, so have the products. The absorbency rate of the ECO-QUICKgel slurry solidifier has increased! ECO-QUICKegel debuted with an absorbency rate around 400 times its weight, but is now conservatively stated to be around 600-700.
Gelmaxx has certainly improved their packaging and updated their product samples. At last year's convention, many attendees asked for AQUAmaxx slurry separator samples, but they were unavailable at the time. However, Gelmaxx is pleased to introduce their AQUAmaxx samples this year, which attendees can try on their own.
Since Gelmaxx is part of the Concrete Sawing and Drilling Association (CSDA), they are proud to offer free attendee registration, courtesy of CSDA.
Make sure to stop by Gelmaxx's booth #031335 on the outdoor silver lot! Witness the power of Gelmaxx products firsthand and take home free samples.
Gelmaxx, based in California, was established in 2011 and provides contractors slurry solutions specifically designed to help during all parts of the cleanup phase. Gelmaxx was founded by a grinding and polishing expert who understands the challenges the industry faces with strict regulations and growing cost of doing business. For more information, visit http://www.gelmaxxusa.com.