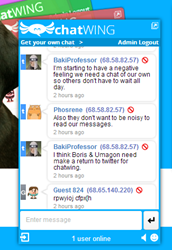 Boston, MA (PRWEB) December 15, 2013
Aspiring food bloggers can now use the latest Instagram chat room tool offered by Chatwing.com. Instagram users can rely on the tool when it comes to professional website chat due to its powerful functions. The Chatwing tool also has numerous premium features for those who want a higher level of communication experience.
"Food blogging is becoming one of the fastest trends today. Web users rely on food bloggers if they want to try out specific recipes," Shelly Miller explained. She is one of the talented researchers of the Chatwing chat app team. "Instead of wasting time on viands that will not meet their standards, the users can just check out food blogs and analyse the opinions of the bloggers. They can also have food-related discussions. The Chatwing chat software widget can ease the communication process. It acts like a room where people can discuss ideas, plans, and varying opinions."
Chatwing widget has social media integration—web users and chatroom visitors can log in through Facebook, Twitter, Tumblr, Google, and Yahoo. The Instagram login function is the newest addition in the platform. Now, food bloggers can share their Instagram shots in the Chatwing chatroom. Sharing is fast and easy due to the widget's flexibility.
Chatwing's developers also believe in the importance of progress. To make the platform highly efficient, they will introduce more enhancements throughout the coming year. Users can expect for better and faster widgets that can help achieve online goals.
About Chatwing.com
Chatwing.com is a company that has brought innovation to the modern chat widget. Operating for more than five years now, Chatwing and its team of developers have dozens of ideas ready to be introduced to the public. The Chatwing chat app is an easy-to-use online tool that can help web users interact with each other and can also generate continuous traffic. Chatwing will always be a "freemium" application for everyone.