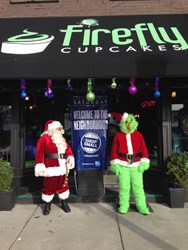 East Aurora, NY (PRWEB) December 06, 2013
Firefly Cupcakes will be participating in a number of fun and unique family events this December in East Aurora. Firefly will feature Grinch inspired cupcakes and drinks from December 3-9 to celebrate and support the Aurora Theatre showing of the Grinch on Saturday, Dec. 7, and will also participate in events on Dec. 14, 20 and 21.
The Grinch will be shown at 11 a.m. on Dec. 7 at the Aurora Theatre at 673 Main St. There will be no charge to enter. Firefly will be serving Grinch-themed cupcakes and drinks across the street at their store all day. A Grinch and Whoville costume contest will be held after the movie at 1 p.m.
Free sleigh rides on Main Street on Dec. 14 will be sponsored by Walk in Closet, Prima Oliva, Taste and Firefly Cupcakes. Attendees will receive gift bags containing vendor coupons while supplies last. Complimentary smidges will be offered at Firefly Cupcakes with hot chocolate purchases throughout the evening.
Firefly Cupcakes will host live music with nine year old local singing sensation, Katie Flaherty, from 7-9 p.m. on Friday, Dec. 20. Coloring contest winners will also be announced at the event.
East Aurora's 41st Carolcade celebration will be held at 7 p.m. Saturday, Dec. 21, on Main Street in front of Vidler's. Firefly Cupcakes will be under the Vidler's awning giving away complimentary smidges. The Carolcade features over 2,000 singers gathering on Main Street to sing Christmas carols and enjoy the decorations on historic Main Street.
Firefly Cupcakes is located at 700 Main St. in the heart of East Aurora, NY. They are open seven days a week, serving their delicious cupcakes as well as Stumptown Roasters Coffee and organic zhi teas. Place an order with by calling 716-655-4949.
About the Company:
Firefly Cupcake specializes in custom decorations, unique displays, and one-of-a-kind flavor creations for both large and small events. It also offers inside and outside dining overlooking historic Main Street. For more information, please visit their website at http://www.fireflycupcakes.com, or call 716-655-4949.