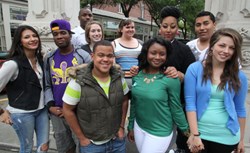 "These young leaders have persevered through challenging circumstances and are now finding different ways to give back to their community and disprove negative stereotypes about young people in foster care." Celeste Bodner, FosterClub Director
Washington, DC (PRWEB) December 08, 2013
Today one hundred young people, age 16 to 24, and who spent a portion of their childhood in foster care, were celebrated for service to their communities and their commitment to improve the foster care system.
The one hundred young people represent forty-four states and collectively share over seven hundred years of experience in the foster care system. "These young leaders have persevered through challenging circumstances and are now finding different ways to give back to their community and disprove negative stereotypes about young people in foster care," says Celeste Bodner, FosterClub's Executive Director. Over twelve years, FosterClub has worked with thousands of kids helping bring their stories to light and providing a platform for their voices to be heard.
"Being selected as an OYL was a huge accomplishment and honor for me. It helped me to connect with the amazing organization that FosterClub is, and it also gave me an official title and responsibility to represent the many foster youth leaders throughout the country. It has inspired me to continue my path toward excellence and strong leadership," says Jessica Sachara, one of last year's Outstanding Young Leaders from the state of Washington.
According to data from the federal Children's Bureau, there are nearly 400,000 children in the U.S. foster care system (Adoption and Foster Care Analysis and Reporting System / AFCARS FY 2012 data). While the total number of children and youth in foster care has been steadily decreasing over the past decade, the number of young people who "age out" or become too old to qualify to stay in foster care without finding a permanent family to live with has been on the rise. The 23,396 young people who will transition out of foster care this year (AFCARS) face difficult odds in defining a successful path for themselves as they enter adulthood, indicated by statistics of high rates of homelessness and unemployment, low rates of high school and college completion, and more medical and mental health issues compared to their non-foster peers.
FosterClub, the national network for young people in foster care, represents over 35,000 members nationwide. The organization's mission is to change the foster care system for the better by leading the efforts of young people in and from foster care to become connected, educated, inspired and represented so they can realize their own personal potential and contribute to a better life for their peers. FosterClub leads the efforts of young people across the nation to reform policy and practice, particularly for older youth who are preparing for the transition from foster care to adulthood.
According to 2013 FosterClub Outstanding Young Leader Ridmi Coe of Vermont, "Foster kids are directly affected by the system and yet have little voice in what happens to them. The system is created to help children that have been abused and neglected. When the system fails it adds to the burden and trauma."
"The main reason we are the perfect people to change the system is because we have seen its flaws from within. An outsider can only sympathize with our experience, whereas we are able to empathize with one another," says Outstanding Young Leader Akalei B.
The story of each of the 100 Outstanding Young Leaders can be read at FosterClub.com. Interested individuals can learn how to volunteer and support children and youth in foster care at FosterClub.com or by contacting FosterClub at 503-717-1552.