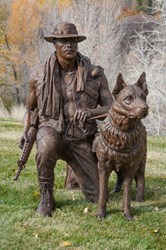 "I cried because I was happy, and I cried because I was sad."
Provo, UT (PRWEB) December 10, 2013
Big Statues has honored and helped others honor our wonderful Veterans who have fought for the nation's freedom. Citizens recognize the need and importance to remember them and thank them beyond our abilities. Not only should people remember the veterans, but also their families, animals, and all others who helped and made sacrifices during the war. America would not be a free country if it weren't for all of the veterans.
Recently, Big Statues have sculpted various bronze Veterans Memorials, specifically in Houma, Louisiana, where the statues actually made the front page in the newspaper. This project was in memory of Vietnam veterans and their war dogs.
The statues' unveiling also marked the grand opening of the My Heart's Desire Pet Adoption Center in Houma. Diane Baker, the owner of the adoption center, in talking about the event and statues said, "I cried because I was happy, and I cried because I was sad."
This is the exact emotion we hope to convey with these Veteran statues.
Big Statues has also recently done a bronze Veteran's Statue in Greencastle, Pennsylvania.
Big Statues wants to honor them while remembering the sacrifice they made for this country.