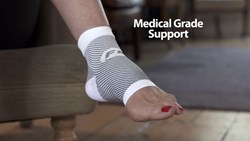 "What it comes down to," says Dave Higgins, President and CEO of ING Source, Inc., "is that the product works. It's simple, it's comfortable, and it does what it says it will do."
Hickory, NC (PRWEB) December 10, 2013
At an average of over 1800 units sold per day, the FS6 compression foot sleeve is an incredible success. Designed and packaged by ING Source, Inc. of Hickory, North Carolina, this thin and comfortable medical device helps hundreds of thousands of people live with less foot and heel pain from common ailments like plantar fasciitis.
The science is certainly interesting, but the homegrown story of their success is more interesting still.
"What it comes down to," says Dave Higgins, President and CEO of ING Source, Inc., "is that the product works. It's simple, it's comfortable, and it does what it says it will do."
Higgins came up with the idea that would eventually become the FS6 in 2008 while working as a consultant for textile companies around the world. As an expert in the diabetic and compression hosiery industry, Higgins' credentials include C-level executive positions at industry-leading companies like Thorlo, Knit-rite, and Benchmark Brands, Inc. as well as a successful start-up, Therafoot Technologies, which Knit-rite purchased in 2000.
Higgins relates, "I realized that combining the benefits of compression fabric for vascular health with the principles of orthopedic support for tendons and muscles could really help a lot of people. But only if we could make it comfortable and functional at the same time."
This brainstorm eventually led to the FS6's unique six-zone graduated compression design, which stimulates circulation, remains fixed on the foot, and supports the plantar fascia tendon connecting the heel to the toes, all in a thin, comfortable sleeve that fits under a normal sock.
As of October, 2013, over a million units have been sold through a combination of catalog and retail sales in 17 countries worldwide. The FS6 compression foot sleeve is now the #1 medical device sold to treat plantar fasciitis, and is being dispensed by over a thousand podiatrists in the United States alone.
Explaining why he thinks the FS6 has enjoyed such rapid and widespread success, Higgins says, "Before the FS6 came along, people suffering with plantar fasciitis or other causes of chronic foot pain had two options: deal with hot, bulky, uncomfortable splints and boots made of neoprene, Velcro and plastic, or just live with the pain.
"Now, they have a better alternative: light, comfortable, and effective."
This incredible success has encouraged the company to move forward with several new products that incorporate the FS6's compression zone technology for calves, knees, and elbows. The CS6 compression calf sleeve was recently unveiled and the KS6 and ES3 knee and elbow sleeves are soon to follow.