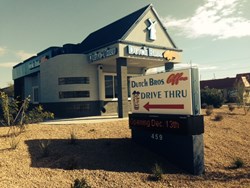 Gilbert, AZ (PRWEB) December 10, 2013
On Friday, Dec. 13, from 5 a.m. to 10 p.m., Dutch Bros. Coffee Drive-Thru is giving away free drinks all day at 459 N. Gilbert Rd. to celebrate its new location in the Gilbert Heritage District.
The Gilbert Town Council unanimously approved a code change in January to allow the drive-through to open in the downtown district where previously there was a struggling auto shop.
Local owner-operator Jim Thompson, who owns twelve other Dutch Bros. stores in the valley, says, "We are beyond excited to open a second Gilbert store and expand our platform for giving back to the community."
Dutch Bros. Arizona supports various local causes, including Boys & Girls Club of Metro Phoenix, United Food Bank, American Cancer Society, the Muscular Dystrophy Association and local schools.
The new location will be open 5 a.m. to 10 p.m. Sunday through Thursday and 5 a.m. to 11 p.m. on Fridays and Saturdays. To find the Arizona Dutch Bros. Coffee location nearest you, visit http://www.dutchbros.com/locations.
Dutch Bros. Arizona employs 150 upbeat, talented baristas.
Follow Dutch Bros. Arizona on Facebook at facebook.com/DutchBrosArizona.
###
About Dutch Bros. Arizona
Serving Arizona since 2007, Dutch Bros. Coffee locations in Phoenix, Tempe, Scottsdale, Mesa and Gilbert are locally owned and operated by Jim Thompson and Janice McCarthy.
Expansion goals include no less than 20 locations throughout the Phoenix metropolitan area, all while focusing on maintaining and enhancing the overall experience for customers.
4 LOCATIONS IN PHOENIX
2961 E. Bell Rd.
4 W. Camelback Rd.
1201 E. Glendale Ave.
12629 N. Paradise Village Pkwy.
2 LOCATIONS IN GILBERT
722 N. McQueen Rd.
459 N. Gilbert Rd.
3 LOCATIONS IN MESA
1960 E. McKellips Rd.
1136 S. Greenfield Rd.
1326 S. Alma School Rd.
1 LOCATION IN SCOTTSDALE
1422 S. Scottsdale Rd.
3 LOCATIONS IN TEMPE
1037 S. Rural Rd.
3213 S. Mill Ave.
6461 S. Rural Rd.
1 LOCATION IN PEORIA (owned by Caleb Berkey)
8387 W. Thunderbird Rd.